SPOTLIGHT
Two award recipients named at Excellence in Leadership Luncheon and Lecture
CU's Fox, Kilkenny honored at annual Brown Palace event
The 2019 Excellence in Leadership Lecture and Luncheon celebrated two winners of the Excellence in Leadership Award: Regina Kilkenny, chief of staff at CU Denver, and Kelly Fox, executive vice chancellor and chief operating officer at CU Boulder.
The Nov. 22 event at Denver's Brown Palace Hotel was presented by the Excellence in Leadership Program (ELP), which provides opportunities for University of Colorado faculty and staff to become more effective leaders who can successfully address the challenges of a dynamic university. More than 640 fellows have completed the program since 2000.
The annual luncheon brings together program alumni to foster continued collaboration, networking and leadership development. The event was partially sponsored by TIAA.
"Higher education is changing, and the networking that you do now is more important than ever," said Felicity O'Herron, chief human resources officer and associate vice president of Employee Services. "That's why bringing together faculty and staff from across the university is essential. The Excellence in Leadership Program facilitates collaboration and the creation of meaningful and enduring relationships."
Two awards for two exceptional leaders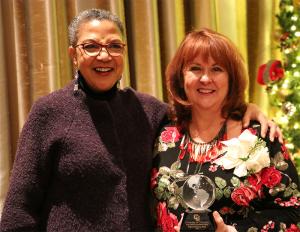 CU Denver Chancellor Dorothy Horrell and Shane Hoon, the assistant dean of Student Affairs and Diversity at CU Anschutz, presented the first award to Regina Kilkenny.
"Regina is engaging," Horrell said. "She is warm and personable. Her connections run deep and wide, and I don't think she knows a stranger. She is generous. She is a lifelong learner and is curious about everything. She is the real deal. She is an incredible gift to all of us who know and love her."
Working in the Office of the Chancellor since 2016, Kilkenny supports multiple initiatives and projects to meet strategic campus priorities and to improve the student experience. From 2011-16, she was associate vice chancellor of Academic Resources and Services at CU Denver and CU Anschutz Medical Campus, where she oversaw the Auraria and Health Sciences libraries, the Office of International Affairs, Ombuds Office and the federally funded National Veterans Training Institute.
In accepting the award, Kilkenny thanked Chancellor Horrell for her guidance.
"This award is thanks to Dorothy, who I want to say is the first leader I have been fortunate to work with at CU who understands and appreciates the soft skills I bring to the position," Kilkenny said. "It is a treat to be in a place that celebrates people for their heart as well as their mind."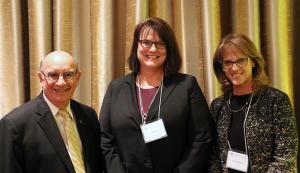 Kelly Fox received the second ELP award, presented by CU Boulder Chancellor Phil DiStefano and Terri Carrothers, CU Anschutz executive vice chancellor and chief financial officer.
Carrothers expressed awe for all that Fox has provided to the university over her 20-year tenure.
"I have watched Kelly as she navigates the deep waters and the challenging world of the COO in a complex research university with a multi-billion dollar budget, which she does with grace, poise, deep intellect and ultimate professionalism," Carrothers said. "She makes it looks easy, when it could not be further from the truth."
Fox was a driving force behind the CU Boulder Tuition Guarantee Program. She also implemented an innovation seed grant program, created the Esteemed Scholars program and oversaw the construction of nearly $1 billion in new and renovated campus buildings.
While accepting the award, Fox not only wanted to thank those who nominated her but those who have helped along the way.
"I love my job, and the projects that were mentioned within my nomination packet," Fox said. "When I read these, I see others who were responsible for their success. I think about their efforts as what makes it possible to do the things we have done together. I feel like I am accepting this on behalf of all of you who I have worked with over the years and everyone I have partnered with."
Leadership lecture
Janet Lowe, director of Employee Learning and Development at Employee Services, introduced keynote speaker Lauren Casteel, president and CEO of The Women's Foundation of Colorado.
Casteel is nationally recognized for her leadership in inclusivity and diversity in philanthropy. Her lecture, "Reflections," analyzed her journey from growing up with her father, Whitney Young, and other civil rights leaders to moving to Colorado and attending CU Denver, which shaped her into the leader she is today. She emphasized the importance of empathy, compassion and understanding when working with vulnerable populations. After a traditional lecture, Casteel sat down with Kilkenny for a short question and answer session.