SPOTLIGHT
Staff Council: Collaboration key to improving benefits, policies
Governance group working with university leadership to pursue multiple goals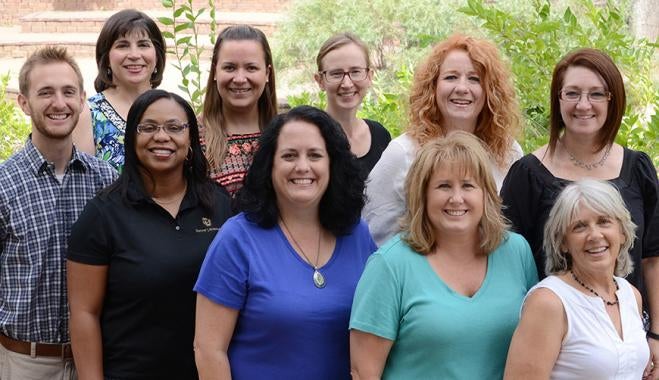 In efforts to develop an anti-bullying policy and expanded professional development programs, the University of Colorado Staff Council (UCSC) will continue to research the issues and work with other campus organizations and administration members, as well as the Board of Regents, to achieve its goals.
Denise Thomas, council chair, said the regents have expressed an interest in finding out more about campus, staff and faculty issues, and UCSC will invite one or more members of the board to attend a council meeting to discuss staff concerns.
"The regents really want to understand how they can help us and this is an opportunity for us" to discuss with them how they can aid council's efforts, Thomas said during UCSC's monthly meeting Sept. 17 at the University of Colorado Colorado Springs.
Kathy Nesbitt, vice president of employee and information services, has pledged her support to work with UCSC members on these and other issues. Thomas noted that CU Faculty Council also has expressed interest in development of an anti-bullying policy. While Nesbitt has expressed concern about adding a separate bullying policy to the university's current list, she has said she is open to possibly adding language to an existing, applicable policy.
Nesbitt also has encouraged and guided UCSC in developing a proposal for professional development programs across the campuses. UCSC's Professional Development Committee currently is surveying a number of departments to determine what programs exist and how they are used by staff members.
Council members also discussed the affordability of CU health insurance offerings. The council plans to meet soon with administrators to learn more about plan offerings and pricing.
UCSC members continued discussion of ways to streamline and simplify the application process for tuition benefits. Currently, each campus has its own tuition benefits policy. University administrators continue to investigate ways to institute a more uniform process. Thomas said she and John McDowell, Faculty Council chair, continue to discuss ways to collaborate to improve the overall process.
UCSC also agreed to invite McDowell to one or more of its meetings to hear faculty's perspective on some of the ongoing issues of interest to university employees.
In other matters, the council's Policy Review Committee will examine and provide feedback for several policies that are up for review, including parental leave, background checks and university letters of offer. The council's Service Excellence Awards Committee is developing ways to streamline the nomination process for the awards, handed out each spring, which recognize staff members' exemplary service to the university and greater community.