SPOTLIGHT
Five questions for Clint Carroll
Stewardship of the land – and of Cherokee culture – lifelong pursuits for assistant professor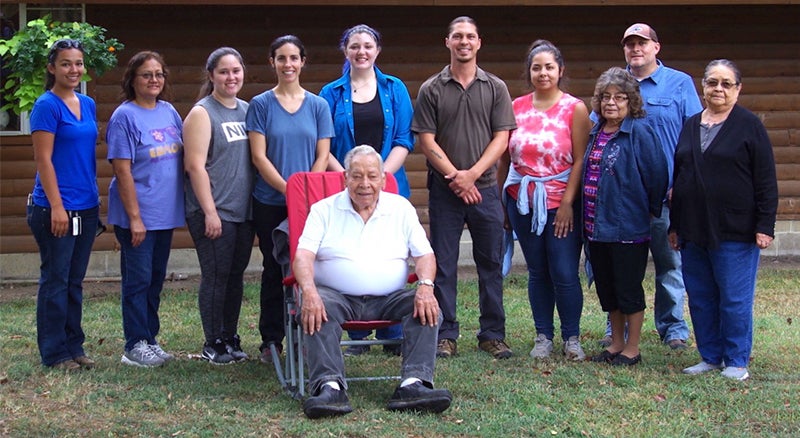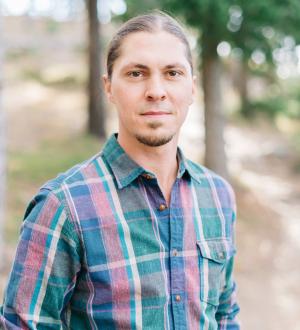 Photo: Elena Bennett
Ensuring that a new generation of Cherokee people understand the cultural and scientific significance of the land and become effective environmental policy leaders is one goal of a five-year project directed by Clint Carroll, assistant professor of Native American and Indigenous studies at the University of Colorado Boulder. With funding from a National Science Foundation Early Career Award, Carroll is working with Cherokee Nation elders to teach five Cherokee students about traditional ways of life, language and ethnobiology.
A citizen of the Cherokee Nation, Carroll's interest in Native American environmental policy and governance, traditional ecological knowledge and practices and American Indian environmental health was first inspired by his father.
"My dad instilled in me some ethical and cultural perspectives when it comes to looking at the land and environment from a Cherokee point of view," he said. "And also, broadly speaking, through an environmentalist perspective on corporations and rampant capitalism and other things that are typically detrimental to the environment. He instilled in me at a young age to be critical of those types of activities and to work toward a land ethic or stewardship ethic in the way we live our everyday lives."
Although he grew up in Texas, more than four hours' drive time from his tribal community, he maintained his identity as being Cherokee, he said, and the work that he does now has come full circle as he applies his skills and knowledge to aid his community in Oklahoma.
He joined CU in 2015, along with his wife, Angelica Lawson, who also is an assistant professor in the Ethnic Studies Department and a member of the Northern Arapaho Nation. Carroll was drawn to CU for several reasons: first to be close to family and also to be part of the burgeoning Center for Native American and Indigenous Studies, of which he serves on the executive board, as well as part of a network of "really amazing scholars in the field and the Native American law program."
In his office, he keeps a pair of hand-crafted hickory stickball sticks, a powerful symbol of his native culture, but also because they were a wedding gift from his Cherokee Nation co-workers.
"The individual who made them is a friend of mine, and so they are symbolic in a number of ways," he said. "They also are just beautiful pieces of handmade craftsmanship, and a wonderful educational tool."
1. You are in the second year of the National Science Foundation-funded "Knowing the Land" project. What is the status of the project and what are its goals?
We recruited our student cohort in April and May and now have five undergrad and graduate Cherokee students, who will be primarily based in Oklahoma. We also have one who will attend the University of Arkansas. I have also recruited a grad student who is assisting me at CU Boulder. She is a citizen of the Sault Ste. Marie Chippewa tribe and is working on her own research project, but she will also assist me on various tasks related to the research, field work and data analysis.
I'm excited to begin the research field work this fall. During the past year, I've worked closely with the Cherokee Nation Medicine Keepers, whose mission is to preserve and perpetuate our environmental knowledge and ensure that knowledge is respectfully and appropriately incorporated into our tribal environmental policy and conservation plans. They are key partners in this project.
Last year we designed a curriculum for the three-year education program, which I presented to the students in July during our orientation and kick-off meeting. During the meeting, the students got a tour of the Cherokee Nation heirloom plant garden and then visited elder and spiritual leader Crosslin Smith and received the traditional blessing from him. We also visited a tract of tribal land for an ethnobotany tour. (Visit the project blog at http://knowingtheland.edublogs.org/ )
I'm now planning the group's next meeting in September. These activities will bring everyone together and focus on specific activities that are land-based, for instance, learning a traditional craft from start to finish, like collecting materials and making a traditional Cherokee basket or learning how to harvest corn and grind it down to make cornmeal. Many traditional Cherokee recipes are made with cornmeal. The activities give the students hands-on, experiential education regarding our environmental knowledge that ranges from food to wild plants and land stewardship.
We have many different goals. The NSF funding mechanism is equal parts education and research. Our educational goals are to strengthen our student cohort's Cherokee language abilities. Language is a key component in the program because much of our environmental knowledge is embedded in the language. They will be learning the Cherokee language in tandem with the topical material and experiential activities that we have with the elders. These Medicine Keepers are fluent speakers and so it is a really great opportunity for the students to ask questions and talk about the language through the mentor/apprentice relationship.
The other educational goal, of course, is for them to obtain a strong grasp of the multifaceted world of environmental issues that the Cherokee Nation specifically faces. That entails both the traditional knowledge and Western scientific biological knowledge as well as how politics and policy play into land conservation in northeast Oklahoma, where the Cherokee Nation is located.
The research goals are to understand the obstacles that Cherokee people in rural areas are encountering when they seek to gather wild plants and how they navigate those obstacles in order to continue ways of life that are land-based. We want the research to be able to shed light on the ways the Cherokee Nation can strategize land conservation that best meets the needs of communities in the rural areas using the legal and political tools they have.
2. You mentioned that the Cherokee people face obstacles. Do you mean climate change and encroaching development, for instance?
Yes, climate change and encroaching development with the added complication of what we call checkerboarded land ownership. You can date that back to the early 1900s and the onslaught of the Allotment Act of 1887 (in which the United States government sought to survey tribal lands and divide them into parcels for individuals). Around the time that Oklahoma became a state in 1907, the U.S. government virtually dissolved the Cherokee Nation government and all of the principal chiefs from 1907 to 1971 were federally appointed, and many of those positions were just needed to sign off on land sales. It was an unfortunate period of time for the Cherokee people, and we lost a lot of land in the process. Tribal land went from 4.48 million acres to 100,000 acres.
Climate change is another obstacle. Plant species move according to climate patterns and climate shift. Property boundaries stay fixed, but as the climate shifts, you see an encroaching prairie ecosystem into some of our oak-hickory forests, disturbing a lot of the culturally significant plants we still recognize. Many of the people buying land in the area are non-locals and they are not allowing access to Cherokee people to plants important to them like echinacea, yarrow and sassafras. There are other, more sensitive species that we are focusing on in terms of conservation of the lands that sustain them and protection of these species for medicinal purposes. The Medicine Keepers are there to talk about these plants and why they are important.
3. Are you fluent in Cherokee?
I am still a learner when it comes to my native language. I've been studying the language since I was in my late teens and have been working with fluent speakers as well. It's an ongoing, lifelong process. I'm teaching my daughter; we talk in the house as much as we can. I'm giving her that grounding at an early age so that she can go on to learn it more when she gets older.
Relatively few people grow up with it these days, and so we have a lot of immersion programs, an immersion school and some adult immersion programs. We have a program that was recently developed – for which I was fortunate enough to be a guinea pig – called "Your Grandmother's Cherokee." It's called that because when John Standing Deer, an Eastern Band tribal citizen, and Dr. Barbara Duncan, one of the directors of the Museum of the Cherokee Indian in North Carolina, were developing the program, they received comments from elders and fluent speakers about the way the Old Ones used to speak it. They wanted to preserve every syllable. In every language, you have slang or cut-off ends of words or things are melded together in weird ways that everyone understands. But this program is about looking at the full form of words and why each component is important. The students will be getting training in that program as well, working with me online and practicing with the fluent speakers.
4. What other studies have you done with or for the Cherokee Nation?
A related project that I'm really proud of is a PhotoVoice project that reflects the Cherokee Nation Medicine Keepers' perspective on land use as it relates to community health. It's about 30 minutes long and I just published an article in 2018 on this project.
I gave the Cherokee elders digital cameras and they went out on their own time and took photographs of plants and places and things that to them really speak to the intersection of land and health. I met up with them a couple months later and recorded interviews with them, then overlaid the voices onto the still images in a kind of Ken Burns-style documentary. It enables people – including our tribal leaders, council members, politicians and decision-makers – to get this perspective, and it reached them in a significant way. Many times, our tribes have a lot of issues that seem more pressing – health care, education, housing. But what would it take to get them to think about the bigger picture, that conserving our land and our culture and cultural knowledge about lands is just as important and is related to all of those other issues? That video has been able to make an impact in that regard. The publication that just came out this year is about how Cherokee citizens were affected by the video. We found some statistically significant changes in their perceptions about their environment but also in the way they prioritize tribal funding in regard to land conservation. (See the video at https://youtu.be/B2h_CUF9scc )
I'm also a consultant on a National Parks Service-funded project in Arkansas at Buffalo National River, which is just east of the Cherokee Nation. In a strategy to combat, or at least to adapt to climate change, we examined the impending shift or encroachment of a drier eco-region into our oak-hickory woodlands. I was approached a few years ago by a research team out of the University of Arizona to enlist the Medicine Keepers' support and participation to establish gathering rights. The National Park Service has published a groundbreaking rule in the National Register that allows Native Americans to gather plants within national park boundaries. We held the field work activity in May of 2017, and the elders I worked with saw some plants they had not seen in ages growing in abundance. That's understandable because you have the park boundaries to protect them and a little more rainfall and the right ecological conditions. We're getting close to the end of an environmental assessment of the potential impact that gathering would have on the plants that were identified during that research field work. We'll be working in the coming months to finalize that agreement, which would be very significant, and hope it will be the first such agreement signed since the rule was published.
5. You've mentioned that your father influenced your love of the land, and that includes being connected to the land through gardening. What do you grow and what other hobbies do you have?
Gardening allows me to take a break between projects and keeps me busy in a good way. We moved into this house in Longmont where the yard was full of weeds that were about waist-high. We spent a lot of time on that the first summer we lived there. We put in some raised beds and an area where I've been trying to grow Cherokee heirloom corn. I haven't had luck with that because of the winds that typically come in the early fall and knock the stalks over, and then squirrels finish them off. I have had luck with heirloom squash and beans, a nice strawberry patch we inherited from the previous owners, and a number of other things like tomatoes, carrots, cucumbers, and a variety of herbs and greens. We do this during the growing season to stay connected to where our food comes from, but also and especially so that our daughter can grow up getting fresh food from the garden.
I also like to play music and play the guitar. I used to be in a band and played drums, but I don't anymore. I haven't found new bandmates in Colorado. And I like to get out and go camping whenever I can, and I like to go fly-fishing.