STORY
Take your benefits to go with digital ID cards
CU Health Plan administrators provide virtual proof of coverage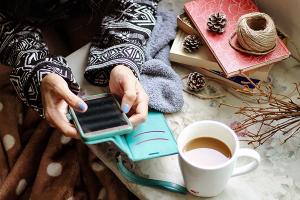 If you've ever dug through your wallet searching for your medical insurance or pharmacy ID card – the correct, current ID card – you know this can be a hassle.
Fortunately, CU gives you options to access digital ID cards when you need them – whether you carry your smartphone with you at all times or you want nothing to do with one.
Your phone is your passport to all your medical and pharmacy benefits with digital ID provided by our CU Health Plan insurance providers, using each provider's mobile app as well as saving ID cards to your phone's wallet. Your computer also gives you access to download or print digital ID cards.
Anthem
Anthem is the plan administrator for CU Health Plans Exclusive, High Deductible, Extended and Medicare.
You'll need to register for an Anthem account, then download its Sydney Health mobile app. The Sydney Health app gives you access to your insurance ID card, plus the ability to review your available benefits, search for providers, view your previous claims, ask questions through interactive chat and more.
Visit the Digital Delivery webpage for instructions.
Kaiser
CU Health Plan – Kaiser enrollees can use the Kaiser Permanente mobile app to access a digital copy of your insurance benefit card. You'll need to register for a Kaiser account, then download the mobile app. This card can be used at any Kaiser network health care provider where you need to provide the details of your insurance coverage.
Plus, you can use the website or app to email your doctor's office, view most lab and test results, schedule or cancel routine appointments and more.
Visit the Digital Delivery webpage for instructions.
CVS
Those covered by an Anthem-administered CU health plan will use CVS as their pharmacy provider. The CVS Caremark mobile app gives you access to your pharmacy card, but also offers easy-to-use tools to keep your prescriptions organized, get refill reminders, compare drug costs and more. You can create your online profile and locate the app by visiting caremark.com.
Visit the Digital Delivery webpage for instructions.
Delta Dental
Delta Dental of Colorado members do not need physical or digital ID cards to receive care, unless they visit an out-of-network provider or a Delta Dental provider outside of Colorado.
You can sign up for a Delta Dental account and download their mobile app, which will allow you to print member ID cards, check your dental benefits, find a provider, check the status of a claim and more.
Visit the Digital Delivery webpage for instructions.
Digital delivery
Your ID card and benefits aren't the only ways to go digital. You can reduce that pile of unopened mail on the dining room table by signing up for digital delivery of certain documents and notices related to your health coverage.
You can opt-in to digital delivery of IRS Form 1095-C, privacy practice notices, the annual report from CU's Health and Welfare Plan Trust and more. The steps are easy:
Log in to the employee portal.
Choose "My Info and Pay" from the drop-down menu at the top center of your employee homepage.
Click the "Digital Delivery Options" tile.
Choose from the "Benefits Notices Delivery" or "Form 1095-C Delivery" menu options along the left side.