STORY
Feel the Heat & Move Your Feet! 5K set for Aug. 7
CU Health Plan members, families invited to free race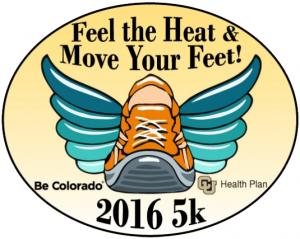 CU Health Plan and Be Colorado will present the Feel the Heat & Move Your Feet! 5K on Aug. 7 at Washington Park in Denver. The race is open to CU Health Plan members and their families with no registration fee.
Registrations are open to individuals and teams. Friendly competition (and costumes, for that matter) is welcomed and encouraged.
The day begins with a yoga warmup, followed by a Kid's Dash for little ones too small to finish a 5K. Before the race, timing bibs will be available; the top male and female finishers will receive a prize. Near the finish line, a variety of booths will offer ideas to improve overall health, along with some nice swag.
"We encourage everyone to move by participating in this event," said Gena Trujillo, strategy and operations office for the CU Health Plan, who also noted the run can count toward the one of 12 monthly workouts to earn $25 through the Move. program. "We believe it will provide a healthful boost into the new plan year, while having fun, for members of the CU Health Plan and their families."
Not sure how to get yourself or your crew ready for a 5K? Joseph Cavarretta, an exercise physiologist and running coach at the CU Anschutz Health and Wellness Center, will lead a 5K Running Clinic on July 27 for CU Anschutz employees looking to train for an upcoming 5K.
For everyone else, he shared these ideas for fun, efficient individual and group running workouts:
Strides
Perform an easy 10-20-minute jog/walk as a warmup.
On an open field or track, perform between six and eight strides. Strides are short, fast, controlled runs that last for 10-20 seconds each. Begin each stride by slowly accelerating to a fast speed, concentrating on technique and posture, hold the fast speed for a few seconds then slowly decelerate to a stop. Your top speed should be about the pace at which you could run 1 mile.
Rest fully (30-90 seconds) between each stride so you achieve good form during each stride.
After the strides are complete, cool down with another 10-20 minute jog/walk.
Soft ground such as grass or a track is preferred for strides. Strides can be done as a partner workout, alternating on turns. Each partner watches the other for good form and provides feedback.
200m Partner Relay
Perform an easy 10-20 minute jog/walk warmup. Find an open stretch of grass, road or sidewalk about 100-120 yards long. One partner will run at a hard pace (with good form) to the other end of the 100-yard stretch and then back.
Tag your partner's hand then your partner runs while you rest. Repeat for a total of eight times each.
End workout with a 10-20 minute cooldown jog/walk.
Modified Fartlek (Speed Play)
Perform an easy warmup 10-20 minute jog/walk.
In small groups of two to four, one runner picks an object or marking that the group will run to and determines the pace they will run. The pace options are: walk, easy, moderate and hard. Then the next runner will pick the object/marker and pace. For example: Runner 1 says, "We are going to run to that tree at a moderate pace." Runner 2 says, "We are going to run to that speedbump at a hard pace." Runner 3 says, "We are going to walk to that parking meter."
Do this for 15-20 minutes, then end with a 10-20 minute cooldown jog/walk.

Speedy Stairs
Perform an easy warmup 10-20 minute jog/walk.
On a flight of stairs (the more flights the better, but can be done with as little as one), practice running up the stairs at top speed, focusing on posture, driving arms (hands from hips to ears), picking knees up, and drawing circles with your feet. Walk down after each set.
Perform anywhere from 10-20 total flights. Each rep should be performed for maximum speed possible, hitting on every step or skipping a step for the advanced.
After stairs are complete, go for another 10-20 minute cooldown jog/walk.
Easy endurance run
An easy conversational fun run. Choose between 1-4 miles.
"The key to progress is consistency and recovery," Cavarretta said. "Even the best runners can suffer from doing too much, too soon, too fast. Start slow and focus on building up the frequency of your runs; the speed will come later."
Proper nutrition is vital to optimal performance. Cavarretta recommends eating complex carbohydrates one to two hours before a run to provide sustained energy. Think oatmeal, whole wheat breads, potatoes, all-bran cereals, quinoa or starchy vegetables. After a run, he recommends simple sugars within 15 minutes of finishing – think fruit, milk or honey – followed by lean protein to aid in total recovery.
For more details on the Feel the Heat & Move Your Feet! 5K, including course maps, parking instructions and other details, visit the Be Colorado website.