STORY
Expanded health care options to be offered during Open Enrollment
Employees' two-week window to review, select benefits begins next month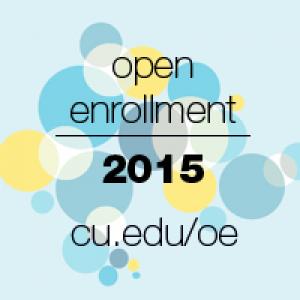 During CU's two-week Open Enrollment period — April 27 through May 11 — CU employees may enroll in health care plans and programs that provide coverage from July 1, 2015-June 30, 2016. While you can find information now about the benefits enrollment window at www.cu.edu/oe, plan rates and summary books will be available online when Open Enrollment begins on April 27.
What's new this Open Enrollment?
Enroll in new CU Health Plan – Extended to get covered care at facilities across the United States.
With CU Health Plan – Extended, benefits-eligible employees will have access to a national network of providers, in Colorado and throughout the United States. Participants can refer themselves to specialists. With the exception of urgent and emergent care, this plan does not cover out-of-network care. Additional details will be available at www.cu.edu/oe.
CU Health Plan – Access Network is being discontinued.
Following years of increasing rates for Access Plan coverage, CU Health Plan – Access Network is being eliminated effective July 1, 2015. Current members enrolled in this plan must take action to enroll in another medical plan or waive their coverage. If they do not, they will be automatically enrolled in another CU Health Plan, based on CU's auto-enrollment strategy.
Save pre-tax dollars: Pair your high-deductible plan with a new health savings account (HSA).
By enrolling in CU Health Plan – High Deductible (HSA Compatible) — or an HSA-qualified high-deductible plan outside CU — employees may save money for future medical expenses, or for retirement (just as you can by enrolling in a CU 403(b) Voluntary Retirement Plan). Starting July 1, CU will offer an HSA through Wells Fargo. When employees open a Wells Fargo HSA banking account, they may set aside pre-tax funds to pay for qualified medical expenses, just as they may by opening a flexible spending account.
Most CU health plans will now cover acupuncture.
Plan participants have requested acupuncture more than any other benefit they'd like added to their covered services, and the CU Health Plan has responded by offering it to all of its plans' participants (with the exception of those enrolled in CU Health Plan – Medicare). This benefit will cover a limited number of annual, pre-authorized visits.
Diabetes prevention program strives to educate and empower at-risk population.
CU Health Plan – Diabetes Prevention tackles the epidemic of pre-diabetes, which afflicts about 60 million American adults who are at increased risk of developing Type 2 diabetes. Plan members who have been diagnosed with pre-diabetes can participate in this 16-week program, which aims to help them make lifestyle changes via educational tools, social support and health coaching.
Documentation is now required for optional life insurance coverage increases.
During Open Enrollment, you may increase your optional life insurance; however, to do so, you must complete the insurance company's Medical History Statement Form. If you are approved for coverage, it will begin July 1.
Find more information about your options this Open Enrollment at www.cu.edu/oe.