STORY
Campus recognized for outstanding savings of electricity, natural gas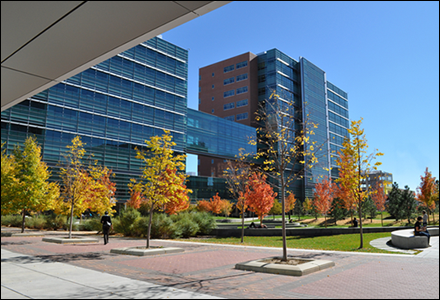 Research 1 on the CU Anschutz Medical Campus in Aurora is among the 2013 Xcel Energy Efficiency Expo awardees.
At the recent annual Energy Efficiency Expo at Sports Authority Field at Mile High, Xcel recognized 11 Colorado businesses for outstanding efforts to save energy. The awards honor commercial, industrial and small business customers in Colorado for participating in Xcel Energy 2012 energy efficiency programs.
These entities, including the Anschutz Medical Campus, lowered energy costs and reduced the impact on the environment. Collectively, the honorees saved more than 38 million kilowatt-hours of electricity and more than 13 thousand therms of natural gas in a 12-month period. That's the equivalent of taking more than 4,200 cars off the road.
Research 1 earned the Energy Management Systems Achievement award based on 1.4 million kwh saved. CU's energy saving achievement in Research 1 is just one part of the much larger University Climate Action Plan to reduce energy use and the associated greenhouse gas emissions
Xcel Energy offers incentives, such as rebates and funding for energy efficiency studies, to its business and municipal customers to encourage them to make energy-efficient choices. The 11 companies recognized chose more efficient equipment and processes for their facilities
"Businesses are placing efficiency projects higher on the priority list now that they realize how much money can be saved," said Shawn White, Xcel Energy efficiency marketing manager. "These awards are a way for businesses to share their accomplishments with employees and customers."
The other award recipients for efficiency are:
Leprino Foods, Highest Energy Savings by a single premise: 10 million kwh saved
Rocky Mountain Metal Container, Self Direct Achievement award: 7.7 million kwh saved
City and County of Denver, Highest Savings for Multiple Program Participation: 5.1 million kwh saved
Denver Downtown Embassy Suites, Lighting Efficiency Achievement award: 4.5 million kwh saved
ViaWest Inc, Data Center Efficiency Achievement award: 3.1 million kwh saved
University of Colorado – Jennie Smoly Caruthers Biotechnology Building, Energy Design Assistance Achievement award: 3.2 million kwh saved
Vail Resorts, Process Efficiency Achievement award: 2.2 million kwh saved
University of Colorado Denver Anschutz Medical Campus Research 1, Energy Management Systems Achievement award: 1.4 million kwh saved
Pacific Convenience and Fuels, LLC, Highest Energy Savings – Business Solutions Center:  more than 815,000 kwh saved
Denver Metro Village, Small Business Lighting Efficiency achievement award: more than 762,000 kwh saved
Rifle Housing Authority, Heating Efficiency Achievement award: more than 13,000 therms saved