SPOTLIGHT
Kilkenny's four-decade career built on service to others
Dedication leads to honor as Excellence in Leadership Award winner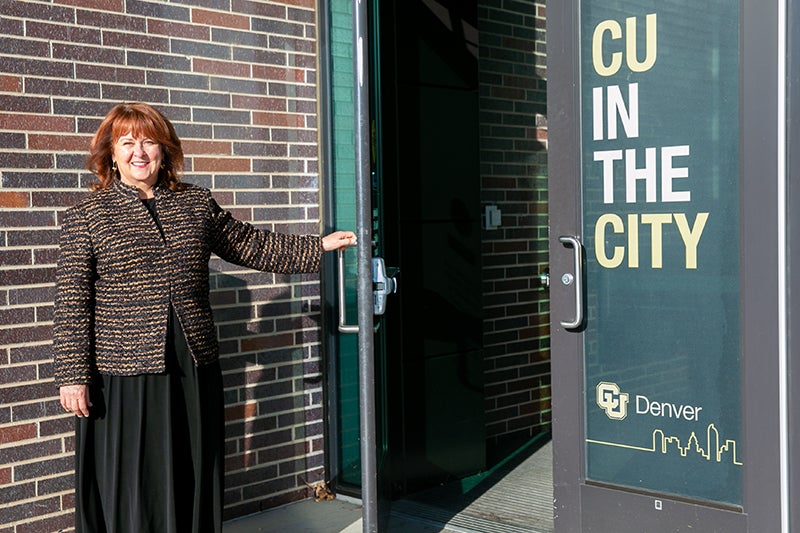 Regina Kilkenny, Ph.D., is, at heart, a public servant.
From acting as a legislative intern for state Rep. Federico Pena in 1980, to joining CU's Office of the President in 1988 and her accomplished position as associate vice chancellor of academic resources and services at CU Denver l Anschutz Medical Campus from 2011-2016, her drive to help others has been the hallmark of her career.
"Serving others keeps me humble and reminds me that we all need each other," she said. "There are so many gifts I receive by serving others, including the gratitude of those who have lifted me up along the way."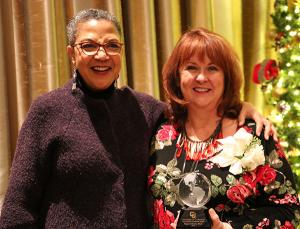 Kilkenny is one of two 2019 Excellence in Leadership Award recipients. Given to an alumnus of the systemwide Excellence in Leadership Program (ELP), the award recognizes exemplary leadership at the university in one or more areas including: leadership of organizations, departments or teams; leadership of projects, programs and/or research; fiscal management and/or fundraising; and student instruction.
Kilkenny, a 2015 ELP graduate, was recognized for her leadership and dedication to CU as chief of staff for CU Denver Chancellor Dorothy Horrell. She has worked in the Office of the Chancellor since 2016, supporting initiatives and projects to meet strategic campus priorities and to improve the student experience.
However, a lifetime of public service marks her career.
Kilkenny was first introduced to the university while a lobbyist to the Colorado General Assembly as a part of a three-person government relations team. Her team was tasked with "reorganizing" University Hospital from a state-owned and -controlled entity to an independent University Hospital Public Authority. This work is now the basis for the governing structure of UCHealth's University of Colorado Hospital on the Anschutz Medical Campus.
She then joined the CU School of Medicine dean's office from 1992-2008 to help merge CU Denver and the Health Sciences campuses to form University of Colorado Denver | Anschutz Medical Campus.
"She helped the two campus administrations that were not necessarily comfortable with the consolidation not only get along, but also work well together," said Richard D. Krugman, M.D., Distinguished Professor of pediatrics and former vice chancellor for health affairs and dean at the CU School of Medicine. Krugman and Kilkenny worked closely together during the merge.
Kilkenny helped create and coordinate the School of Medicine Council of Advisers, a group of high-level regional business and civic leaders committed to providing strategic direction and advice to the dean.
"I'm proud to carry those lessons learned at CU Anschutz into supporting an amazing group of students, faculty and staff at CU Denver who work extra hard to strive for a better future for them and their loved ones," Kilkenny said.
The theme of connecting others rings true in her multiple negotiations and projects. She spearheaded a negotiation with a college dean and legal counsel for a renewed memorandum of understanding with China Agricultural University, CU Denver's International College of Beijing partner. She also brought together associate and student affairs deans to create policies and student programs centered on student success as associate vice chancellor of academic resources and services at CU Anschutz.
"Regina is a connector," said Carl Johnson, director of student engagement at CU Anschutz. "She has the unique ability to see the best in others and connect them to like-minded people. She has an outgoing, charismatic personality, which allows her to form strong relationships, which then allow for the great work of the university to become an exciting adventure and work becomes opportunity for connection."
Even in her personal life, public service is at its apex. She has held multiple leadership positions on community boards including the Denver School of Science and Technology and the Colorado Chapter of the National Multiple Sclerosis Society. She is an active book club member and hopes to teach her children that showing respect for others will never disappoint.
"Seek first to understand. Once that has happened, then seek to be understood," Kilkenny said.
With over four decades of public service and leadership under her belt, she is far from slowing down.
"CU has made a lasting imprint on me for four decades," Kilkenny said. "I'm now wondering what my imprint will be on CU. What lasting impact can I have on my teammates, students, systems and culture that will be meaningful for years to come? How can I share my privilege to construct a platform for the overlooked, the unseen and the undervalued people?"