SPOTLIGHT
Five questions for Peggy Jobe
CU-Boulder librarian honored for longtime contributions to shared governance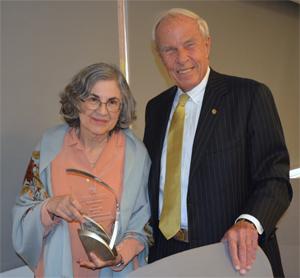 Jay Dedrick/University of Colorado
Because she always had her "nose in a book," one might surmise that it was Margaret "Peggy" Jobe's destiny to find a career in library science. Yet, it wasn't books that pushed her forward; it was the fact that she wasn't enjoying her job as the branch supervisor of a savings and loan.
"I've always had my nose in a book, but reading books — despite what you might think — is not what you do as a librarian … so it's hard to say why I went to library school," Jobe said. "But once I started school, I decided that I really liked libraries."
After earning her master's in library science from the University of Denver (her bachelor's degree in English is from CU), she worked for the Central Colorado Library System beginning in 1986. The Internet was in its infancy, and toward the end of her tenure there, she trained others how to use the technology. As the information landscape began shifting, Jobe joined CU-Boulder in 1995.She worked as the Government Documents Librarian for International Documents, acting head of the Math Physics and Engineering Libraries, head of the Engineering Library, and became head of the Government Publications Library in 2007 — which is her current position. She's an associate professor and also is serving as head of the Music Library until that position is filled.Last week, she was honored by the Faculty Council of the University of Colorado, which recognized her with the Distinguished Service Award for her service to the university over the years, including her "contributions to improve the working conditions for all faculty while representing their interests through shared governance."
1. What is your work day like as head of the Government Publications Library and also the Music Library?
We're a regional depository, which means we provide a variety of services to other depository libraries in the state. We're also a European Union, United Nations and Colorado state depository, so we collect a lot of information from various levels of government. Our collection is arranged by publisher, which is very different from other libraries, where collections are arranged by subject. People don't understand the structure of the government very well, so in my department, everyone is passionate about the challenge of teaching people and helping people find the information they need.
While the university searches for a permanent head of the Music Library, I'm shuttling back and forth between locations. I love music, and while I'm here, I'm able to take advantage of the things that are in the library.
Much of library science is management-focused, so while there are certain levels of expertise, it's all about the organization of information. If you understand the organization then you can be successful in a variety of disciplines. But of all of my positions, my favorite remains government information. The federal government is the world's largest publisher. As the regional library, we work with other libraries in the state, and we work with the general public throughout the campus and state. In my department, we frequently work with students in political science, international affairs, environmental studies, history and geography because those departments intersect nicely with our collections and our expertise. A few weeks ago, my whole department was busy working with students in international affairs who had papers to submit.
As an example, I worked with a student to identify sources. To prepare, I created a customized guide for the student that I went over when we met with the person to discuss how to approach the question. The sheer volume of the information available can make it difficult to hone in on the most relevant sources.
2. Many of your research activities and publications are about teaching others to understand the process of information gathering. Tell me about your most recent work.
I recently published a chapter in a book on international organizations. I've also written a chapter on technical reports issued by the federal government. I've also explored questions relating to the environment and the census. Other publications I have written have been focused on collection development issues; for instance, how do we buy effectively and not have too much duplication within a collection. Many of the publications to which I contribute are aimed at the library professional or for library schools. I don't usually write for non-academics, but early in my career, I wrote a lot about the Internet, which was new, and those publications were for the public who visited the library.
I also have posted two articles to our institutional repository. One is a brief history of Native American representation in the census, which I wrote because we were always getting questions about the topic. There's no good data on Native Americans in the census until 1970 for a variety of reasons. This short history of the issue has been downloaded on a regular basis. More libraries are moving toward supporting institutional repositories, which are open access and allow preservation and access to scholarly works by professors. It all started with the open access movement for things like medical information. The idea behind the repositories is that this information shouldn't be hidden behind subscription walls when public funds are used to support a lot of the research.
3. You recently received the Distinguished Service Award from Faculty Council. What would you consider some of your most important accomplishments with the organization?
I started out as a representative of the Boulder Faculty Assembly about 10 years ago, then moved to the Faculty Council, which also does important work and enables the faculty to have a venue to provide feedback to the campus. I ended up chairing the seven-person committee that examined how the university handled the Patti Adler case. (Adler taught "Deviance in U.S. Society," a class that included a skit about prostitution; when administrators asked her not to teach the course, the ensuring controversy sparked discussion about academic freedom.) After looking at the case, we found that CU policies and procedures were not followed. The principle thing that's important about Faculty Council is that you need robust communication between faculty and administration. Ensuring that the faculty voice on issues that matter to faculty is heard is the big point. So I think that it's hard to point to one accomplishment. We need to be a persistent voice for the faculty. But I'm not really focused on the award; I'm proud of my overall contributions to the university and the campus.
4. You mentioned that things have changed dramatically since you first began working in the library science field. What do you believe the future holds for libraries?
Even though I was involved in training people to use the Internet early in my professional career, there's no way I could have anticipated the changes in the delivery of information and the broad societal impact that the Internet has had and will continue to have. I know that things will change, but it's really hard to say what that will look like. Certainly, libraries will continue to be engaged in trying to figure out the best way to work with people as their needs evolve.
Very early in my career, email was kind of new and there were remote communities with no robust infrastructure for delivery of information. A colleague and I played around with scanning and then sending the documents to those rural areas in multiple parts. We had to encode the information and then decode the information. There really was no good way to deliver information to people in rural areas. Now we have video-conferencing! I have no idea in which direction libraries will continue to evolve, but it will be fascinating.
5. I understand that you are planning to retire in the near future. What are your plans once you leave full-time duties at the university?
I'm looking forward to having so much more time. I'm interested in volunteering with adult literacy. I'll have more time to hike and bird-watch. Colorado is a great place to be as far as recreational opportunities go. And I'm looking forward to doing things I don't have time to do now – concerts, lectures and all of the things that happen on campus. When you are doing your job day-to-day, it's hard to get away. I'm excited about my retirement in about 18 months. I'm not worried about filling the time: I can always stick my nose in a book.