SPOTLIGHT
Allen builds roots for sustainable diversity
CU Denver | Anschutz vice chancellor honored with Excellence in Leadership Award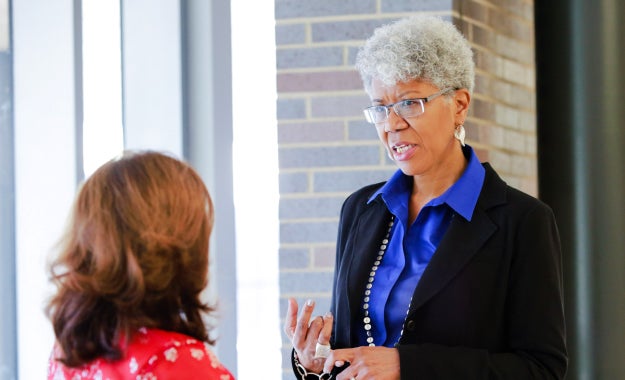 For Brenda Allen, professional and personal growth does not stop at just one juncture.
Just take a peek at her career: She started as an assistant professor beginning her research, assumed various administrative roles, then helped to build sustainable initiatives as vice chancellor of diversity and inclusion for CU Denver l Anschutz Medical Campus.
Allen is one of two recipients of the 2017 Excellence in Leadership Award, which is given to an alumnus of the systemwide Excellence in Leadership Program (ELP). The award recognizes exemplary leadership at the university in one or more areas: leadership of organizations, departments or teams; leadership of projects, programs and/or research; fiscal management and/or fundraising; and student instruction. Allen was recognized for her contributions to the field of diversity and inclusion, along with her dedication to CU.
Her career began after receiving her Ph.D. in organizational communication from Howard University. In 1989, Allen was recruited to CU Boulder as an assistant professor. There, her academic focus made a shift.
"I was intrigued when I got there, at what I later learned would be called identity politics, and assumptions people had about me and my area of scholarship," Allen said. "People assumed I did research on gender and intercultural communication because I am a black woman. Intrigued by this dynamic, I switched my focus of scholarship from computer-mediated communication to social identity and power dynamics in higher education."
Growing and thriving off this assumption, Allen transferred to CU Denver in 2001 as an associate professor of communication and became formally involved in leadership positions. She chaired the communication department from 2003 to 2007 and became associate dean of the College of Liberal Arts and Sciences from 2007 to 2012.
"In all of those roles, I was continuing to gain experience and hone my expertise in diversity and inclusion work, and I began to delve into leadership concerning diversity and inclusion," Allen said.
While honing her skills and research, Allen embraced the opportunity to complete the ELP in 2007.
"I appreciated both engaging and interacting with colleagues as well as benefiting from the expertise and from the learning experience of solely focusing on leadership in really valuable ways," she said.
Allen's expertise and commitment to diversity efforts led to her promotion to associate vice chancellor of diversity and inclusion for CU Denver | Anschutz Medical Campus in 2012 and vice chancellor in 2016.
Allen summarizes her leadership skills with a three-prong catchphrase she dubs "the three S's": strategic, systemic and sustainable. Crediting her work in organizational communication, Allen believes that to truly transform an organization, we must be intentional and deliberate to make change that lasts.
This philosophy is making an impact on the university, with centers and people now adopting the approach. Examples of this method are evident throughout the university, with the creation of an Office of Equity for CU Denver | Anschutz, a Bias Response Task Force in place for campus search committees and a Diversity and Inclusion Action Agenda for the School of Dental Medicine, to name a few.
Her most recent accomplishment is a grassroots effort for undocumented CU students. Responding to recent DACA changes in 2015, Allen addressed staff and faculty concerns by establishing the Undocumented Student Services Program at CU Denver.
"Anybody that we form a formal relationship with – whether they are students, employees or external to our campus – we owe them respect. We owe them our support," she said. "In this case, this plays out in our staff and faculty who saw a need and wanted to provide formalized assistance to undocumented students."
This program, now a formalized resource for CU Denver and CU Anschutz students, offers services from DACA applications to immigration resources. Faculty and staff also may volunteer their time as advocates for these students. Recently, Allen strategically helped to advocate for using the CU Student Relief Fund to support students who needed to renew DACA applications.
Her influence does not stop there. Allen also takes the time to provide mentorship for many women on the Denver and Anschutz campuses.
"Her program that she called 'womentoring' helped to provide junior and senior faculty and staff members on the campuses with tools for ensuring they possess the skills and confidence to contribute to the University of Colorado in a multitude of ways," said Denise Kassebaum, professor and dean of the School of Dental Medicine.
Just ask Cerise Hunt, a doctoral student whom Allen mentored on becoming an effective and inclusive leader in her new leadership role.
"Dr. Allen is first and foremost a remarkable mentor who has helped guide my professional and academic journey," said Hunt, who is now the director of the Center for Public Health Practice and instructor at the Colorado School of Public Health. "She is easily accessible and readily accommodates nontraditional students, such as myself, who work full-time. I have and continue to benefit immeasurably from her advisement, mentorship and teaching."
While CU has continued to build and strengthen its diversity and inclusion efforts, solidifying its diverse culture is Allen's next step.
"We have to engage these issues – not as just a one-time thing or by being reactionary, but rather by taking a proactive approach embedded in the institution's culture, policies and procedures," Allen said.