PEOPLE
Wienholtz earns Employee of Quarter honor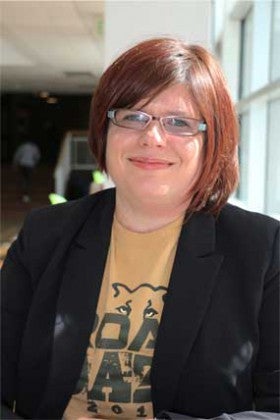 Sabrina Wienholtz, assistant director of the Office of Student Life and Leadership has been named the UCCS Employee of the Quarter.
Brad Bayer, executive director of the office, said no one is more deserving of the award.
"Sabrina has an amazing work ethic, demonstrates ongoing flexibility, is solution-focused and has a genuine passion for student services and UCCS," Bayer said in his nomination letter. "Overall, our department, the Division of Student Success and Enrollment Management, and the university operate effectively because of Sabrina."
A seven-year UCCS veteran, Wienholtz is responsible for many of the day-to-day office tasks that keep Student Life and Leadership running smoothly, ranging from advising student clubs to managing the office budget to launching a leadership development program for first- and second-year students.
Wienholtz said working with students is the most gratifying part of her job. "The reason we're all in these jobs in Student Life is because we want to help develop students and we buy into higher education and the transformation that happens here," Wienholtz said. "To be able to take someone who comes in as a freshman, who has potentially never had a job before, and to take them from a place where they don't know how to professionally answer a phone to a place where they're ready for a career and they've learned a lot and have discovered who they want to be through that process is amazing to be a part of."
A member of the UCCS staff since 2007, Wienholtz served as program assistant in the Office of Student Life and Leadership for four years. In 2011, she was named a student activities specialist. In 2012, she became assistant director following a national search.
Outside of Student Life and Leadership, Wienholtz serves as secretary and treasurer of the Professional Exempt Staff Association and teaches a freshman seminar. When not at work, Wienholtz can often be found either bowling or doing yoga.