PEOPLE
Giese earns Employee of Quarter honor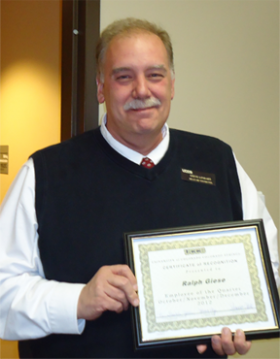 Any parent of a teenager can appreciate the daily challenges that face Ralph Giese, director, Resident Life and Housing at the University of Colorado Colorado Springs.
But imagine being responsible for the 900 young adults who call UCCS home, and appreciation quickly becomes respect. On any given day, Giese and staff respond to complaints about rooms that are "too hot" or "too cold," challenges with roommates, or updates on a waitlist that stretched to more than 100 last year.
Those qualities and many more led to Giese being named UCCS Employee of the Quarter for the fourth quarter 2012.
"There is no such thing as an 8-to-5 day for Ralph," wrote Stephanie Hanenberg, director, Student Health Center, and Giese's nominator. "Ralph works tirelessly to keep his staff upbeat and his encouragement for them to feel like an integral part of this community is admired."
In her nomination, Hanenberg cited Giese's ability to collaborate with other departments to create programs for resident students, his ability to draft university leaders to play celebrity waiter roles, and his willingness to volunteer for jobs ranging from search committee chair to the Professional Exempt Staff Association. He also worked on plans to expand university housing and the two new towers that are under way.
This summer's Waldo Canyon Fire was a challenge for campus housing as evacuees, firefighters and members of the National Guard called UCCS housing home for several days. Giese worked 14- and 16-hour days during the emergency to ensure that rooms were ready and that UCCS presented a safe haven.
"I am completely surprised and humbled by the nomination and my win," said Giese, a UCCS employee since 2007. "It has been an amazing experience working with so many caring and dedicated individuals."
Giese will receive a $100 stipend, a certificate, one day administrative leave, and three months' worth of free, reserved campus parking.