STORY
Veterans Day Ceremony recognizes service members for their duty, selfless service and integrity
A Veteran's Day Ceremony on Tuesday in Tivoli Turnhalle paid homage to the duty, service and integrity of our military veterans, and particularly the many student veterans who enrich the university community each day with those characteristics.
The ceremony traditionally takes place outdoors on the Tivoli Commons but was moved indoors due to the frigid weather.
The well-attended tribute opened with a processional and color guard presented by the Metropolitan State University of Denver Army ROTC, the Scottish American Military Society and the Sister Nations Women Veterans Color Guard.
Speakers included CU Denver Chancellor Jerry Wartgow; Christopher Budden, dean of the Center for Career and Technical Education, Community College of Denver; Vicki Golich, provost and vice president of Academic and Student Affairs, MSU Denver; Meaghan Buckley, president of the CU Denver Student Organization; and students representing MSU Denver (Noel Olson and Tabitha Bennett) and CCD (Sarah Bonen).
After the playing of the national anthem by trumpeter Michael Hengst (MSU Denver) Buckley delivered opening remarks. Buckley, who at CU Denver leads the state's largest veteran student organization, thanked all those from each university on the Auraria Campus who contributed to the ceremony. "Our campus community is incredibly lucky to have such an outstanding group of young professionals to honor our veterans today," Buckley said.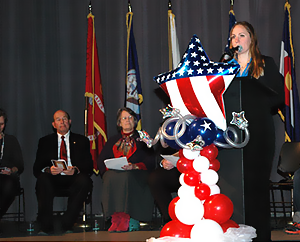 Bracketing the speakers was Bennett's recitation of the famous Howard Schnauber poem, "I am the Flag of the United States of America," and Olson's call for a moment of silence to honor all service members — returned, current and those who paid the ultimate sacrifice for their country.
Budden noted that Veterans Day originated as a way to honor service members who returned from World War I — "the war to end all wars." "In the nearly 100 years since that war ended, generation after generation of service members have taken the oath and performed their duty throughout the world."
Golich said veterans and service members embody the term "selfless service." The building blocks of that characteristic, she said, are the commitment of each team member to go a little farther, endure a little longer and look a little closer to see how he or she can add to the effort. "It is what we do that matters, and it is what we do when no one else is necessarily watching that counts," Golich said.
Wartgow spoke about integrity, noting that it is a critical characteristic of armed service members. "Veterans carry integrity with them when their tour of duty is finished," he said. "We are very fortunate on this campus and in our three institutions that our student veterans bring this value into higher education, where integrity also plays a major role."
Most importantly, Wartgow said, veterans know how to translate integrity into action. He said the core value "should be embraced by all of us in the educational enterprise," from students to professors, advisors to administrators.
He emphasized that today's veterans were not conscripted for service, but willingly volunteered to serve our country, knowing that they were putting themselves in harm's way. "That's integrity," Wartgow said. "For their honorable and self-sacrificing service to our country and, yes, for their integrity, we thank all of our veterans, especially our student veterans."