PEOPLE
Wartgow receives Denver Business Journal Legacy Award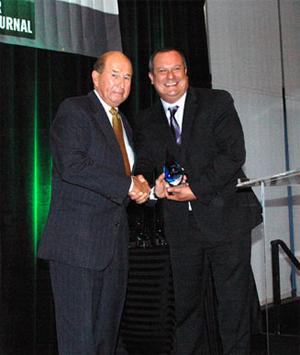 CU Denver Chancellor Jerry Wartgow received a Denver Business Journal Legacy Award on June 18. He joined five other pillars of the community who were honored for significant lifetime achievement in civic and business leadership in Colorado.
"I'm deeply honored to receive this award and deeply humbled to be recognized with all of these people who have supported me for so long," Wartgow told the audience of about 200 in the Grand Hyatt Capitol Peaks Ballroom. "I see them out here (in the room). In every one of these positions I was asked to take, people rallied around and supported me. So, to the extent that I've had any success since I've been here, it's because of most of the people in this room."
He highlighted two people in particular: Les Woodward, who was on two boards — Colorado Commission on Higher Education and the Denver Public Schools Board of Education — that hired Wartgow as chief executive 27 years apart, and his wife, Diane, who has "supported and indulged me throughout my career."
In addition to twice leading CU Denver as chancellor, Wartgow has served as superintendent of Denver Public Schools; founding president and president emeritus of the Colorado Community College & Occupational Education System; deputy and acting executive director of the Colorado Commission on Higher Education; and executive director of the Auraria Higher Education Center.
In a video profile shown after dinner, Wartgow called CU Denver "a star in the higher education field in Colorado" and highlighted progress made while serving in his first stint as chancellor: the opening of the new CU Denver Business School, ground-breaking for the new Student Commons Building, and the launch of the Boots to Suits program.
Wartgow noted that he worked on the group that planned the Auraria Higher Education Center — a unique tri-institutional campus in the heart of the city — several decades ago. "I have 30 years of history on this site — so I have a huge investment."
Wartgow has taught at both secondary and postsecondary schools and universities. He is a Fulbright Senior Specialist who served as acting director of the Hong Kong America Center at the Chinese University of Hong Kong. He has served as a consultant to public schools, colleges and universities, governmental agencies and community organizations throughout the world. He revitalized the DPS Foundation and founded both the Auraria Foundation and the Colorado Community College & Occupational Education Foundation.
The other honorees were philanthropist Jean Galloway; real estate developer John Madden Jr.; former Denver mayor Wellington Webb; his wife, Wilma, the first African-American member of the Legislature's Joint Budget Committee; and former Denver City Council president Elbra Wedgeworth.