STORY
Student success in focus for regents during strategic plan presentation
Campuses highlight ongoing progress in improving graduation and retention rates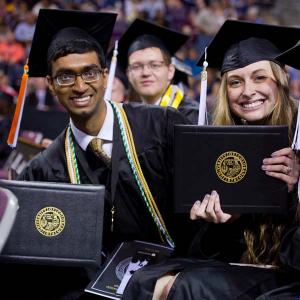 The Board of Regents heard updates on student graduation rates and retention during the board's most recent look at progress in CU's systemwide strategic plan.
The presentation at the Nov. 4 board meeting at CU Denver focused on information relevant to the strategic plan's first of four pillars, Affordability and Student Success.
At CU Denver, the freshman retention rate rose from 72.8% in 2019-20 to 74.9% in 2020-21. Monique Snowden, senior vice chancellor for strategic enrollment and student success, said the retention rate increase was greatest for minority students, up from 73.7% to 76.8%, and that all subgroups saw increases except for Pell Grant recipients, where retention dipped from 74% to 72.4%.
UCCS Chancellor Venkat Reddy said a dip in retention for first-year students between fall 2019 (70.7%) and fall 2020 (65.3%) is linked to the effects of the pandemic, while six-year graduation rates held relatively steady, with 45% for the fall 2014 cohort and 44.1% for the fall 2015 cohort. He expects new programs, including a pilot mentoring initiative, to make inroads at increasing graduation and retention.
Katherine Eggert, CU Boulder senior vice provost for academic planning and assessment, said the cohort of first-year students who began in fall 2020 equaled the campus's all-time high of 87% retention. Underrepresented minorities, first-generation students and Pell Grant recipients had lower retention rates than the overall cohort, she said. Four-year graduation rates increased from 46% for the 2013 entering class to 58% for the 2017 entering class, while six-year graduation rates increased from 69% for the 2013 entering class to 74% for the 2015 entering class. Read more in CU Boulder Today.
Regent Callie Rennison asked whether students indicate reasons for not returning in the following academic year. Personal and family circumstances top the list at CU Boulder, Eggert said, along with finances and seeking a sense of belonging. Similar reasons hold true at the other campuses.
The student success pillar also includes a focus on innovations in learning and teaching. Michael Lightner, vice president of academic affairs, detailed one such effort, a program in development called CU Next. Campus leadership is working on details of the $1.5 million fund from the president's office aimed at supporting initiatives for innovative classroom activities improving student success. A call for proposals, which will be required to entail collaboration across at least two CU campuses, is expected in the coming weeks, with decisions on awards coming in spring 2022.