STORY
Regents to receive trio of budget options this month
Plus: Roundup of other business from Faculty Council meeting
The CU Board of Regents this month will be presented with three initial budget scenarios for the 2016-17 fiscal year, each reflecting varying levels of state funding.
Todd Saliman, vice president of budget and finance, updated the Faculty Council during its Jan. 28 meeting at 1800 Grant St. The regents are set to meet Feb. 18-19 at UCCS.
Of the three budget options, the one receiving the most attention so far is based on Gov. John Hickenlooper's budget request, Saliman said. It includes a $20 million cut for higher education; CU would account for $4 million of that.
"We're lobbying to try to avoid the cut, but the state is in budget-cutting mode," Saliman said. "The state has a situation where the better the economy does, the more money the state takes in and the more they have to cut the budget to pay for refunds."
The second CU budget option assumes a more optimistic zero cut in funding from the state, while the third factors in an increase in state funding – "which seems highly unlikely," Saliman said. "But the governor referenced it in his budget request."
The Legislature's Joint Budget Committee will vote on higher education funding in March and the entire Legislature will begin considering the JBC's recommendations in April.
In other business at last week's Faculty Council meeting: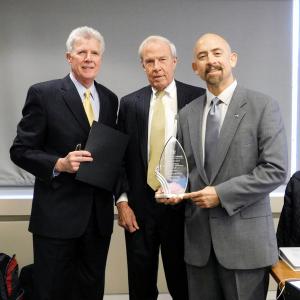 Cathy Beuten/University of Colorado
Faculty Council Chair John McDowell presented the council's Leadership in Public Education Award to Lt. Gov. Joe Garcia. President Bruce Benson and Tanya Kelly-Bowry, vice president of government relations, joined the council in honoring him.
"Thanks for your friendship and for all you've done in standing up for us with the Legislature and the governor," Benson said.
In his dual role as executive director of the Department of Higher Education, Kelly-Bowry said, Garcia has been a true friend of CU in times of crisis. "He has been the best advocate we've had."
Said Garcia, "I always have a warm spot in my heart for CU. I graduated from CU in 1979, and this means a lot – coming from my alma mater, and from faculty in particular." He added, with a laugh, "As a college president (at CSU-Pueblo and Pikes Peak Community College), I didn't have faculty say 'thank you' very often, so I appreciate this."
Garcia last fall announced he will resign his office later this year to become president of the Western Interstate Commission for Higher Education.
Treasurer Dan Wilson appeared at the meeting to promote the university's Faculty Housing Assistance Program, which offers two ways of making housing more affordable for tenure and tenure-track faculty who meet financial requirements. One is an appreciation loan, or in effect a second mortgage that allows the homeowner to borrow up to another $80,000 from CU, interest-free. The other is a loan guarantee program wherein CU agrees to repay funds to the mortgage company, should there be a default; this secures a lower interest rate for the borrower. Alexis Kelly, assistant treasurer, said the program – designed as a faculty recruitment and retention tool – has historically been popular in Boulder, but noted that interest among CU Anschutz faculty has increased significantly over the past year.
Ken McConnellogue, vice president of communication, updated the council on the university's Constituent Relationship Management (CRM) platform. "We want to manage cradle-to-grave relationships with our constituents," he said. "We have many large and small databases at the university; some talk to each other, but most don't. There's a lot of segmented and fragmented data. The goal of the new CRM is to bring it all together in one place." Training in the Salesforce platform is underway this week.