STORY
No-sort recycling in CU housing, dining helps make landfill diversion easy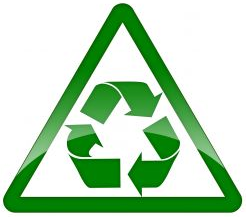 Recycling bins located throughout Housing and Dining Services at the University of Colorado Boulder are now single-stream receptacles, helping to make landfill diversion as simple as can be.
The new system, implemented this week in residence halls, dining facilities and at the Center for Community, allows all recyclables to be tossed into one container, alleviating the task of sorting materials.
Recycling throughout the rest of the campus will remain a dual-stream system with "paper" and "co-mingled container" categories.
"The change balances the need for added convenience in the residence halls and dining areas while retaining the more valuable stream of materials -- which is processed and sold, generating revenue for campus -- from academic and administrative buildings," said Edward von Bleichert, CU-Boulder environmental operations manager.
The improvement also presents a good opportunity to remind the campus community of what not to toss into recycling, according to officials.
While plastic bags are the biggest contaminant to the recycling process, loose shredded paper, coffee and soda cups -- which have plastic linings -- and neon or heavily dyed paper also are non-recyclable products.
"Now more than ever, we must pay attention to the types of materials we are throwing in the recycling bin to ensure that we keep a high-quality recycling stream leaving campus," said Dan Baril, CU-Boulder recycling program manager.
The campus has a 2012-13 goal of reducing landfill waste per person to 147 pounds -- down from about 175 pounds per person in 2011-12. It also has an overall landfill diversion goal of 90 percent. In order to reach the goals, the campus must continue to lower the amount of materials entering the waste stream, as well as double the amount that is collected for reuse, recycling and composting, Baril said.
Students started CU-Boulder's recycling program in 1976. In addition to collecting and processing recyclables, the program teams with campus entities to offer a number of zero-waste events, including Ralphie's Green Stampede. The stampede transforms Folsom Field into a trash can-free venue during football games -- a first-of-its-kind program in the nation.
Some of the program's student employees have been going around to Housing and Dining Services bins that previously were labeled by categories and retrofitting the receptacles with stickers that simply say "recycling."
For more information on CU-Boulder recycling visit http://.recycling.colorado.edu.