STORY
New thinking essential to battling obesity epidemic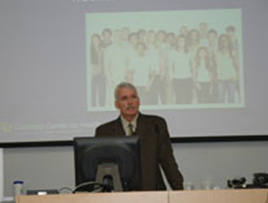 Obesity rates continue to climb because people and society haven't yet been given a good enough reason to reverse the trend.
That was one of the key messages delivered by John C. Peters, Ph.D., chief strategy officer and associate professor of medicine at the Colorado Center for Health and Wellness, at a Monday presentation. About 75 people attended his talk, "The Skinny on Obesity Prevention," on the Anschutz Medical Campus.
"We're going to have to figure out a way as a society to be accountable for changing" the behaviors that contribute to obesity, Peters said.
Helping people to realize that obesity in society has a personal consequence on them -- much like second-hand smoke does -- will be a critical step toward addressing the problem, according to Peters.
Colorado ranks as the skinniest state, having the lowest obesity rate nationwide, but children in the state rank in the middle of the pack, Peters said. Overall, obesity rates in the state are increasing, so "we're catching up."
"We must move away from linear, proximate solutions," he said. "With this kind of problem, we have to look at it a little differently."
Likewise, the Colorado Center for Health and Wellness will encourage a trans-disciplinary approach that reaches beyond the health sector to meet its goal of being the epicenter of a big change in American health, Peters said.
The center, which will open in April, is purposely designed to have "collision space" for people of different disciplines to meet and share ideas. "We plan to bring in people from far-flung disciplines, injecting new ideas into what we do," Peters said. "That collision space will involve people who are experts in these areas as well as people who have ideas that are way outside the box."
In addition to being a state-of-the-art fitness facility, the center aims to be the nation's first completely integrated weight management, nutrition and health research center, he said.
The center will be a hub of vitality, connecting the elements of health -- education, clinical work, nutrition, research and wellness -- with new ways of advancing healthier living.
"The program is so much more than the building," Peters said. "It's about creating a new thinking space. We want to be a center for new thinking."