STORY
New day dawns for health and wellness at CU Anschutz Medical Campus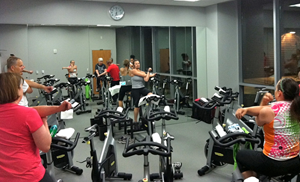 Before the sun even came up Monday, April 16, registered members of the Colorado Center for Health and Wellness entered the brand new, state-of-the-art facility on the Anschutz Medical Campus. By noon, more than 100 members had signed in to inaugurate the center.
The first 70 'early birds' were rewarded with a special gift -- T-shirt or tote bag filled with goodies.
That crowd also has been buzzing about the new facility to colleagues because many new members have joined just since this morning's opening. Altogether, during the past six weeks, nearly 1,000 members have signed up.
Members could participate in three different group exercise classes which were going on concurrently for the early morning group, including Spin, Zumba, and Sunrise Power Flow Yoga.
While it was a busy morning, there's still much more available for members with afternoon and evening classes, including Sunset Yoga on the Green Roof, weather permitting, and Signature Strength Circuit with our world class Fitness Specialist team.
Overall, the center offers world-class exercise technology, group classes and an aquatic center all with spa-type amenities.
For opening day at the center, Bistro Alaia was a popular lunch spot. Executive Chef Paolo Neville and his team prepare nutritious meals for dining in as well as delivery. Some fresh ingredients are grown on the center's 'green roof.' For meeting and special events, the center offers meeting space options.
Membership information is available online at: http://coloradocenter.com/our-facility/fitness-center/membership-information. Call 303-724-WELL or email membership@coloradocenter.com for a convenient appointment, or just stop by.
Take a "video tour" of our Technogym fitness center equipment >>>>