STORY
New policy provides four weeks paid parental leave
Benefit applies to many faculty, staff after a birth, adoption or foster placement
Kathy Nesbitt, vice president of employee and information services, began her June 21 presentation to the Board of Regents at CU Boulder saying, "I am here to share some good news this afternoon."
As of July 1, qualified University of Colorado research and 12-month faculty and university staff will be eligible for four weeks (160 hours) of paid parental leave in tandem with the six months of unpaid leave currently provided, during which they may use accumulated sick and vacation time, she said.
(As the policy allows each campus to provide additional leave beyond what is outlined, the CU Boulder campus is extending the amount of paid leave and building in greater time flexibility to access the benefit. Read details here.)
Tenure, tenure track, non-tenure track and nine-month faculty benefits remain the same at 18 weeks at half-pay.
As part of the terms, employees must be employed for 12 months before the birth, adoption, foster care placement or guardianship in a 50 percent or greater appointment. Campuses may also write policies that are more generous than what is offered for those employees, Nesbitt said.
Leave for classified staff remains the same – 13 weeks of unpaid leave per the Family Medical Leave Act (FMLA), during which time employees may use vacation or sick time. But, Nesbitt said, they're working on improving it.
"There are lots of questions regarding how we treat classified staff and it's sort of a mix," she said, explaining classified staff receive health benefits through the university, but most other benefits through the state.
"I am working with University Counsel to get a recommendation from the attorney general's office and hopefully they'll agree to us providing our classified staff that additional privilege," she said. "But right now we are unable to do so because there is a lack of clarity as to whether we have the right to do so."
Nesbitt said several details must be ironed out and each of the campuses is working on implementation. She recommended anyone with questions contact their campus's human resources person. Click here for campus contact information and more details on the new policy.
Several regents applauded the move and thanked Nesbitt and President Bruce Benson for their diligence and dedication to the issue.
Chair Sue Sharkey, R-Castle Rock, added that the move will help CU recruit and retain some of the top talent in the country.
"This is something in my generation that I would have never dreamed of," Sharkey said. "The times have changed, and I think for the better."
Regents John Carson, R-Highlands Ranch, and Glen Gallegos, R-Grand Junction, asked Nesbitt to provide to the board the estimated added cost to the university's budget.
Also at last week's board meeting at CU Boulder:
The board re-elected Sharkey as board chair on a 5-4 vote. Also nominated was Regent Stephen Ludwig, D-Denver. Jack Kroll, D-Denver, was unanimously voted vice chair.
Before voting unanimously to rename Building 500 on the CU Anschutz Medical Campus the Fitzsimons Building, Sharkey offered insights into its history, noting the hospital was named after William T. Fitzsimons, the first medical officer killed in World War I. She noted the hospital opened three days before the Japanese attacked Pearl Harbor. "I am really happy to see Fitzsimons' name will be memorialized on this very special and iconic building," Sharkey said.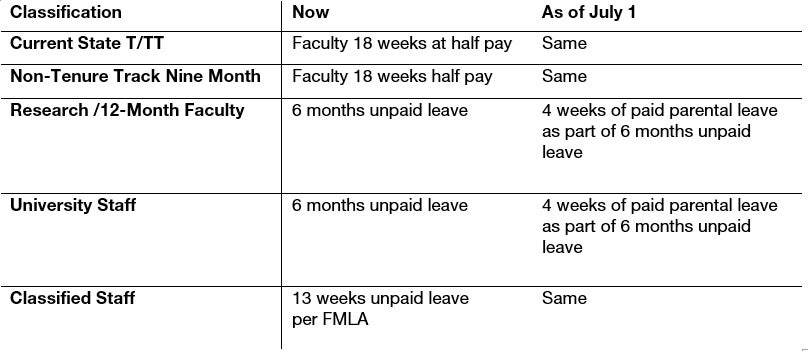 For unpaid leave, employees may use accrued sick and vacation time