STORY
New Creating Futures magazine now available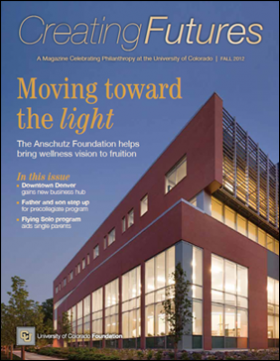 The Fall 2012 issue of Creating Futures magazine is now available. This 36-page issue, available in Zmags format, celebrates philanthropy throughout the University of Colorado, with feature subjects that include:
The Anschutz Health and Wellness Center, which thanks to The Anschutz Foundation has a new building and ambitious programs that promote healthier lifestyles
How an anonymous donor has fostered the study of East Asian history at UCCS
Students from a hardscrabble California community who attend CU-Boulder thanks to Morgan Family Scholarships
The new CU Denver Business School, a hub of innovative programs that expands CU Denver's downtown presence
The biannual magazine was developed in 2011 to tell stories underlying the Creating Futures campaign, a $1.5 billion fundraising campaign to enhance learning and teaching, discovery and innovation, community and culture, and health and wellness throughout the University of Colorado. The campaign has generated more than 275,000 gifts, and more than $1.25 billion in private support, since its inception in 2006.
Print copies of the magazine may be obtained at most primary CU Foundation offices, or by contacting Jeremy Simon at the CU Foundation.