STORY
Impact report: UIS supports technology to advance CU
Team committed to customers, empowering university with IT services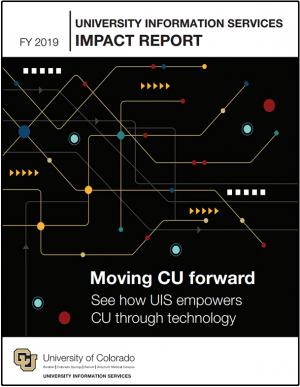 The University Information Services (UIS) Impact Report details the ways the team works to empower the University of Colorado through technology.
UIS provides technical services and enterprise applications to all CU campuses and system administration. From student technology services to research and grant systems to human resources, UIS supports CU daily, in collaboration with its technology partners throughout CU.
During the past fiscal year, UIS has completed major projects and initiatives that affect the CU community, and the department is excited to share these accomplishments.
Did you know?
The Student IT Services team supported the processing of over 290,000 online payments and more than 52,000 Federal Applications for Student Aid.
The Research and Grants IT Services team supported over 11,000 active projects, and made 30 improvements to improve the efficiency of grants management.
The HR IT Service team's work enabled nearly 12,000 benefits updates during Open Enrollment.
Electronic Research Administration (eRA) routed 4,900 proposals for approval.
Enterprise Content Services supported over 3,000 OnBase users from all CU campuses.
The Identity and Access Management (IAM) team resolved over 5,900 service requests.
The Project, Portfolio and Service Management team completed 22 projects totally over 25,000 execution hours.
See how UIS works for the university by reading the full UIS Annual Impact Report. This page also features interactive versions of the report's charts and infographics.