STORY
Here's an Open Enrollment to-do list
Set aside money for health expenses, re-enroll in vision, check confirmations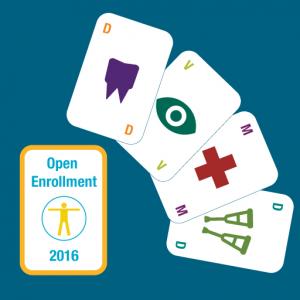 While this year's Open Enrollment gives University of Colorado faculty and staff the option to hold their current benefit plans and take no action, you may want to redraw your hand as a few items require attention before Open Enrollment ends at 5 p.m. May 13.
To-do No. 1: Put aside money for medical expenses
CU offers several options for putting aside pre-tax money for eligible medical and other expenses not covered by insurance, including Health Care Flexible Spending Accounts (FSA), Dependent Care Flexible Spending Accounts (DCFSA) and Health Savings Accounts (HSA).
Each plan has its own advantages depending on how you intend to use it. Here is a primer:
Want to set aside money for this year only? Look into an FSA: An FSA allows enrollees to set aside up to $2,550 pre-tax per year. The amount set aside must be determined during Open Enrollment and used by Sept. 15, 2017. Reminder: If you don't use it, you lose it. You do not have to be enrolled in a CU Health Plan to participate.
Want to save for health expenses in retirement? Consider an HSA: An HSA allows enrollees to save $3,350 for an individual, $6,750 for a family and an additional $1,000 catch-up contribution for individuals over age 55. These pre-tax contributions go into an interest-bearing savings account with the amounts rolling over each year. You must be enrolled in a high-deductible health plan to participate, but may set up or stop contributions to your HSA at any time.
"HSA enrollment is not an Open Enrollment-driven event, meaning you can enroll, change or waive your election at any time during the year," said Michelle Martinez, director of Benefits and Payroll Administration in CU's Employee Services department. "Open Enrollment is a good time of year to review what your out-of-pocket expenses may be and ensure you are enrolled in a qualified high-deductible health plan if you want to participate in the HSA."
Many participants use an HSA to set aside saving for health expenses during retirement.
Unsure which savings plan best suits your needs? Employee Services recommends reviewing this HSA vs FSA comparison page.
Have young children? Look into a dependent care FSA: A DCFSA allows participants to set aside up to $5,000 pretax per household for expenses such as child care for children younger than 13. This amount must be determined during Open Enrollment and used by Sept. 15, 2017.
To-do No. 2: Re-enroll in vision
CU Health Plan - Vision has dropped the two-year enrollment requirement. All faculty and staff previously enrolled in the two-year plan must now re-enroll to continue vision plan coverage. If you do not enroll during Open Enrollment, you will not have vision coverage.
The new plan design allows for eye exams and eyewear purchases each year.
To-do No. 3: Check your confirmation
The day after you've enrolled, you can check your selections in the CU Resources tab of the employee portal.
Click on the Benefits and Wellness menu, and select Benefits Summary.
Enter the effective date "7/1/2016."
Press Go. You will see the selections you made during Open Enrollment.
Learn more
Draw up your game plan by reviewing your options at www.cu.edu/oe. If you're ready to enroll, get started here.