STORY
Five questions for Robert Roach
From CU to glacier-top labs, researcher ascends heights to understand altitude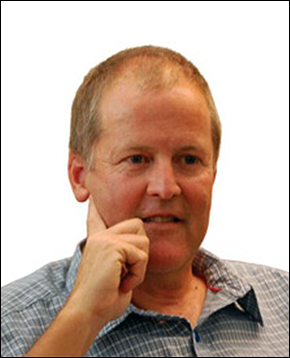 Being able to predict who will and who won't get altitude sickness can make a Sunday morning 14er climb easier and more enjoyable, but the knowledge also will help with efforts to understand and treat heart and lung disease and other medical conditions.
At high altitudes, the amount of oxygen available to breathe diminishes, depriving brains and bodies of a necessary ingredient needed to function at optimal levels. The lack of oxygen (hypoxia) can lead to altitude sickness, with symptoms that can include headaches, nausea and shortness of breath, as well as more severe issues such as seizures, coma and even death.
Robert Roach, director of the Altitude Research Center, part of the University of Colorado School of Medicine, has been researching how hypoxia affects health and performance all around the world for many years.
Roach says he has met some "incredible people" during his research at altitude. And the settings haven't been so bad, either. "Sharing a cup of coffee or hot cocoa on a cold clear morning before walking across the glacier to the lab for 'work' is an awfully good way to start the day."
1. What was your pathway to CU and how did you become interested in high-altitude research?
I came to CU 10 years ago from New Mexico where I was working at a small nonprofit research institute in the rich biomedical research community in Albuquerque.
I first became interested in high-altitude research as a mountaineer when I was an undergraduate at the Evergreen State College in Olympia, Wash. One of our professors was the climbing partner of one of the most famous physician scientists in this field, and I finagled an introduction that led to meeting a group of wonderful people at the University of Washington. A small group of my climbing friends and I came up with an idea to do a study on Mount Rainier. We got an SOS (student originated study) grant from the National Science Foundation to do the study. We had a terrific time leading human guinea pigs up Mount Rainier. We learned that oral antacids, a local folk remedy, were ineffective for preventing mountain sickness, and that Diamox, a prescription drug, was very effective.
That led to several more studies, a paper in JAMA (Journal of the American Medical Association), and then I was off to grad school. At Cornell I did less mountaineering but learned an enormous amount about biomedical research, and specifically about iron and exercise at high altitude. Observing firsthand how the impact of iron deficiency anemia diminishes exercise capacity was impressive, but 25 years later I am surprised and delighted to learn that new discoveries are being made about the role iron plays in hypoxia sensing. We have recently written a research proposal to study iron as a strategy to prevent acute mountain sickness.
A call in the spring of 1982 changed everything: I was invited to join a research expedition to Mount McKinley. Ten years later, I had lived in Alaska for most of a decade, and was driving from Anchorage to Albuquerque to start a job as a research assistant at Lovelace Research, and to start grad school to finish my Ph.D. Several years later we had been back and forth to Denmark for a research fellowship, and we had a major U.S. Department of Defense grant to study women at high altitude. We also got a new National Institutes of Health grant to study the brain at high altitude. Ben Honigman, then the head of the Division of Emergency Medicine, in the Department of Surgery at CU School of Medicine, and I had been talking about starting a research center dedicated to the problems encountered at high altitude. One thing led to another and in 2003 we had put together a start-up package, moved by NIH grant to CU, and we found a Ninth Avenue campus in flux and a ghost town at Fitzsimons. That was 10 years ago this month, but now the Altitude Research Center -- thanks to the hard work of a lot of people along the way -- is flourishing.
2. What are some of the things that happen to our bodies as we climb in altitude? Are the changes only due to lack of adequate oxygen or are there other factors that contribute to changes?
As we climb or drive to high altitude, we start to breathe more because of the low oxygen, also known as hypoxia. That is our first line of defense. But in addition to causing us to breathe more, the low oxygen triggers an enormous cascade of responses that end up over days to weeks making us pretty resistant to the challenge of high altitude.
We are just beginning our research to unravel a lot of the mechanisms that control these responses. The main challenge at high altitude is the low oxygen in the environment, but the low pressure may have some effects, as do the high ultraviolet exposure and cold temperatures. Discovering the mechanisms that control how people adjust to high altitudes is one of our main research missions. As we begin to unlock some of these mysteries, the hope is that we will begin to understand new ways to protect against low oxygen that might help anyone suffering from hypoxia, whether by climbing at high altitude or from heart, lung or blood diseases at low altitudes.
3. You helped start the Denali Medical Research Project. How long were you associated with the project, and what did your research find?
Peter Hackett and I ran the Denali Medical Research project, beginning in 1982, for nine years. Alaska is an amazing place to live. And Denali is an incredible mountain to live on. It was a great adventure, sleeping outside when the nighttime temperature was often minus 30 degrees to minus 40 degrees F. Our lab was totally self-sufficient. If we did not have everything we needed when the last Chinook helicopter took off in early May, we were out of luck. But we had the largest stash of frozen food outside of Anchorage! I learned how to build igloos to store food and lab equipment, how to start a generator when it was minus 40 outside, and the power of acclimatization. After a month or two of living at 14,000 feet, we could climb to the summit and back in hours instead of taking a week or longer, which was the time needed by most climbers who were not as well acclimatized as we were. That kind of logistic planning still influences how we plan experiments in our lab today.
4. It's been reported that you are working on a test that can predict who will get altitude sickness and who will not. What does the test entail?
We are still in the process of developing the test so I can't talk about the details. What I can tell you is that we are evaluating a sea-level blood test for the prediction of who might develop acute mountain sickness in Colorado. So far the results are very encouraging. If the current tests confirm those early findings, this will be the first test of its kind that will allow anyone to know their risk of getting mountain sickness when traveling to high altitude.
5. Do you still have a chance to climb mountains for pleasure?
For several decades, climbing took a back seat to research. For example, I spent four months leading a research expedition to Bolivia in 2012 and I had no spare time to climb. I have had some great opportunities and met some wonderful people in isolated, beautiful parts of the world, but to enjoy the sport of mountaineering I have learned I have to leave the lab at home. My kids have helped me remember the pure joy of climbing so hopefully we will get out more just for the sport of it. Our recent combined work and family exploratory trip to Ethiopia and Ladakh opened up a whole new world for us of relatively unexplored moderate height mountains that will be fun to explore in the future.