STORY
Five questions for Ben Miller
Director of new policy center takes aim at redesigning health care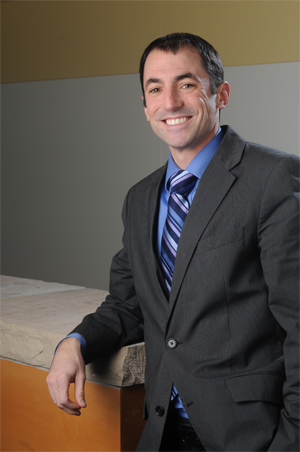 A new interdisciplinary policy center on the CU Anschutz Medical Campus will focus on behavioral health in primary care and how to better deliver comprehensive whole-person care that also will decrease costs and enhance the patient experience.
The Eugene S. Farley Jr. Health Policy Center has been operational for only a few months, but the foundational idea of the new entity has been percolating for several years. The director of the center is Ben Miller, an assistant professor at the School of Medicine's Department of Family Medicine; his expertise is in clinical psychology, behavioral health and primary care. He has been at CU for nearly six years.
1. How did you come to CU?
I am a clinical psychologist by training. I received my undergraduate degree at Spalding University in Louisville, Kentucky, and worked in primary care settings, delivering behavioral services. I came to CU almost nine years ago for an internship; that was my first exposure to this beautiful state and the department I'm currently working in. My wife and I left Colorado for a post doc at the University of Massachusetts and we were there for nearly two years. When the offer to come back to Colorado and be on the faculty came about, I immediately accepted.
2. What is the mission of the Health Policy Center and why was it created?
The world has plenty of health policy centers, but what makes us different is that we're going to be driven by research and immediately focus on some important issues that I think are central to redesigning health care. The first is addressing behavioral health in primary care. The idea of fragmentation that artificially separates mind and body is pretty pervasive and has caused a lot of problems for our patients and our communities. Much of the work we're doing nationally is centered on how to bring behavioral health services into primary care to deliver a seamlessly integrated experience. Practices, communities and states that are working on implementing behavioral health and primary care integration are doing so in pretty creative ways. However, there are fundamental policy issues that practices are still up against. There are not a lot of health policy shops out there that are tackling the issue of how to transform payment and how to transform policy to allow these frontline practices to have a sustainable integrated model.
Secondly, we must create a workforce for the system we want, not the system that we have. In health care, we continue to turn out a lot of providers that are operating in their own silos. We need to eradicate the "it's about me" belief and make it more about the team and about our patients. The center will be focusing a lot on workforce training education starting with a health policy fellowship that was just initiated a few weeks ago. We're offering what we think is a unique experience for individuals from multiple disciplines to come here for a year and work with us on issues germane to the center and get their feet wet when it comes to policy.
3. You mentioned that other policy centers are not emphasizing integrated care like we will. What do you see as some of the issues you must face as you work to meet your goals?
I would be naïve if I didn't say that we're up against history and culture. The way health care has been built is around pieces instead of wholes. We knew that if we were going to start a policy shop and address these issues that we are essentially creating new policies for a new culture of health. We are going to have to alter the historical course. The way we're going to tackle this is a little bit more provocative and progressive: We want to change the entire system, not just pieces of it.
We've created this "system" of health care where we think about mental and physical as separate. We have inadvertently created a culture that almost perpetuates this false dichotomy. We fundamentally disagree with the premise that there needs to be two systems to take care of patients. We want to create policies that are in favor of bringing together mind and body -- policies that are more in favor of a team-based function.
The way we finance health care also has inadvertently perpetuated that dichotomy where we have two systems to pay for the single concept of health care: one that supports mental health and one that supports the medical side of it. So we want to try to help develop a much more comprehensive payment strategy that supports the whole. That may mean bringing dollars from here and moving it over there or eradicating the payment structure and creating new payment models. We will enrich the research base on integration to support policy change.
4. How will you go about reaching your goals?
We are positioning ourselves to be a state and national, go-to entity. We will certainly be a resource for our colleagues here at the School of Medicine and those across Colorado, but we're already in multiple states. For example, in Massachusetts, we are working on primary care payment reform, looking at alternative payment models for primary care that includes behavioral health and working on learning collaboratives and making recommendations back to the state. In Oregon we are creating infrastructures at the community level so that these practices and hospital systems can answer meaningful questions around what is working and what is not working for behavioral health in primary care.
We see ourselves as working to bring people together.
5. How did the center come about?
The namesake, Gene Farley, was probably one of the more preeminent and progressive provocateurs of family medicine. He was a chair of family medicine at the University of Colorado and chaired other departments across the country. He always spoke up about the need for change and fought for things that were truly about making a difference in our communities and with our patients.
Initiating the center has been several years coming now. The Department of Family Medicine at CU has many faculty involved in health policy on a national scale for many decades. It seemed to be that the next thing that needed to happen was for us to start to transform our work that we have been doing in our communities into policy. Many of us had been researching primary care and we knew that the next logical sequence was not about collecting more evidence but to take what we have and help policy makers decipher it and make recommendations of what needs to be transformative.
So that's how this all started. The center and getting our namesake's family approval really started this year. One of Dr. Farley's sons sits on our steering committee, which consists of several national thought leaders. The group will help set the direction we go and advise me and the center. They'll also look for other ways the center can be involved nationally. They'll meet face-to-face for the first time on Sept. 30 to help guide our agenda and to determine which of our multiple opportunities around the nation are the right ones for the center.