STORY
CU system's Hicks receives Excellence in Leadership Award
PSC leader honored at annual luncheon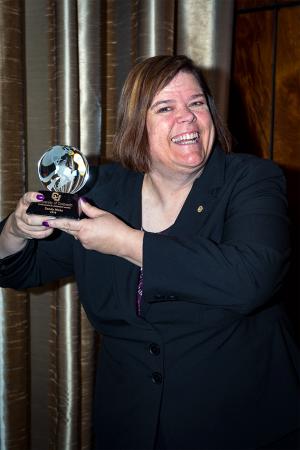 David Sprouse/University of Colorado
Sandy Hicks, associate vice president and chief procurement officer at CU system, on Friday received the annual Excellence in Leadership Award, presented by the Excellence in Leadership Program (ELP).
The award was presented during the annual Excellence in Leadership Luncheon and Lecture, attended by more than 130 program alumni and others at the Brown Palace in Denver.
Hicks was presented the Excellence in Leadership Award by Geoff Barsch, senior associate vice president and chief business officer, Budget and Finance.
"We get comments from colleagues around the country about Sandy's leadership," Barsch said. "She devotes incredible time and effort to her leadership."
In accepting the award, Hicks thanked her staff, colleagues, CU leadership and her husband, Scott. "Scott likes to say that behind every successful woman is a team of people holding her up. I'd like to thank you for being the captain of my team."
ELP provides opportunities for CU faculty and staff to become more effective leaders who can successfully address the challenges of a dynamic university. More than 525 CU faculty and staff have completed the program since 2000.
Gregory Komarow, associate vice president of Employee Services and chief human resources office at CU system, introduced Paul Gibbons' leadership lecture, "Complicated or Complex: Two Practical Tools." Gibbons is an author, speaker and consultant.
Gibbon's lecture emphasized the volatile, uncertain, complex and ambiguous challenges faced by today's leaders and offered scientific and philosophical methods to solve them.
Gibbons said that people often attribute the causes of organizational problems to individuals instead of the systems themselves. He discouraged leaders from implementing major changes to their systems, arguing for the benefits of experimenting with small changes that, if proven successful, could be expanded.
"The moral for dealing with complexity is to adopt the mind of a scientist – tweak things, innovate, tinker – and retrospectively try to understand causality," Gibbons said.
The luncheon is an opportunity to assemble program alumni for continuing collaboration and networking.
"ELP is a unique CU program because it brings together faculty and staff from all campuses to facilitate leadership and networking opportunities," said Janet Lowe, director of Employee Services' Employee Learning and Development division, which administers ELP.
The event was partially sponsored by TIAA.