STORY
CU system DEI roundtables to highlight work of local nonprofits
Quarterly series launches April 1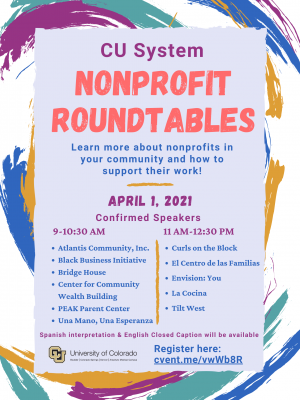 The University of Colorado system Office of Diversity, Equity and Inclusion (DEI) has announced its first quarterly Nonprofit Roundtables, set for April 1.
Led by Theodosia Cook, Chief Diversity Officer for the CU system, and Emily Osan, DEI Specialist, the roundtables will serve as an opportunity for the CU community to become more aware of and invested in the important work happening at nonprofits to support individuals, families and communities across Colorado.
During the events, attendees will hear from organizations about their mission, populations served, programs and impact. Audience members will have the opportunity to ask questions of the presenters.
Two sessions are set for April 1:
9 a.m.-10:30 a.m. with
11 a.m.-12:30 p.m. with
CU faculty, staff, students and community members are encouraged to attend. Please register here if you are interested and share with others.
Questions: systemdei@cu.edu