STORY
College Measures website a new tool demonstrating value of higher education
Though not a complete picture, data shows one aspect of earnings potential for college graduates in Colorado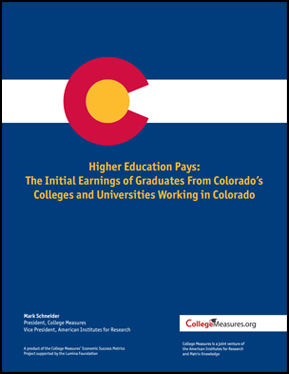 A new state-backed website provides prospective students and their families with a way to learn more about the value of investing in higher education – specifically the earnings that might be expected from a first job out of school.
Colorado is the latest state to launch a website and database via College Measures, an organization that uses data to help achieve improvement in higher education outcomes in the United States.
Wednesday's debut of collegemeasures.org/esm/colorado was accompanied by the release of a final report, "Higher Education Pays: The Initial Earnings of Graduates From Colorado's Colleges and Universities Working in Colorado."
Lt. Gov. Joe Garcia, who announced the launch Wednesday at Denver's South High School, said giving students a simple way of researching first-year earnings of recent graduates from two-year and four-year institutions in Colorado will boost smart decisions when comparing career paths and the potential accompanying debt load.
College Measures compile earnings information from about 61,800 graduates – 26 percent of all graduates of Colorado higher education institutions between 2006 and 2010 – by institution, degree type and major. The accompanying report notes that Colorado graduates of higher education institutions working in the state earned an average of $20,000 more in the first year of employment than did high school graduates.
"We know (higher education) is not just about earning money," Garcia said. "But we want students and their families to have that information."
Data were provided by the Colorado Department of Higher Education (CDHE) and the Colorado Department of Labor and Employment (CDLE). CDHE provided graduate data from the Student Unit Record Data System (SURDS), while earnings data were provided by the CDLE.
The website enables comparisons of earnings among graduates of different institutions, but Garcia said, "This is not about comparing one institution to another." He noted that degree programs vary widely from one college or university to another, and that student populations can skew numbers – for instance, earnings by graduates of the University of Colorado Denver are likely higher because more students there are older with more career experience.
On the website, College Measures notes that the data are incomplete in several ways: The numbers do not represent graduates who enrolled in graduate school or transferred to another college in Colorado and are full-time students. Also left out are graduates who left the state after completing a degree or certificate or who went to work for the federal government in Colorado or who were self-employed.
The one-year snapshot of salaries does not reflect earnings over a lifetime, either.
"What we need to know is what happens five to 10 years out," said Mark Schneider, president of College Measures. "These are short-term wages, and we know we need to push this out to see what happens further down the road."
Garcia encouraged the use of other websites to supplement the information at the College Measures site, including those of individual institutions, such as the University of Colorado Boulder's "After-graduation activity of CU-Boulder alumni" page and the University of Colorado Denver's ESM overview page.