STORY
Challenging times call for diversifying CU's revenue
Topic a focus for Board of Regents at winter retreat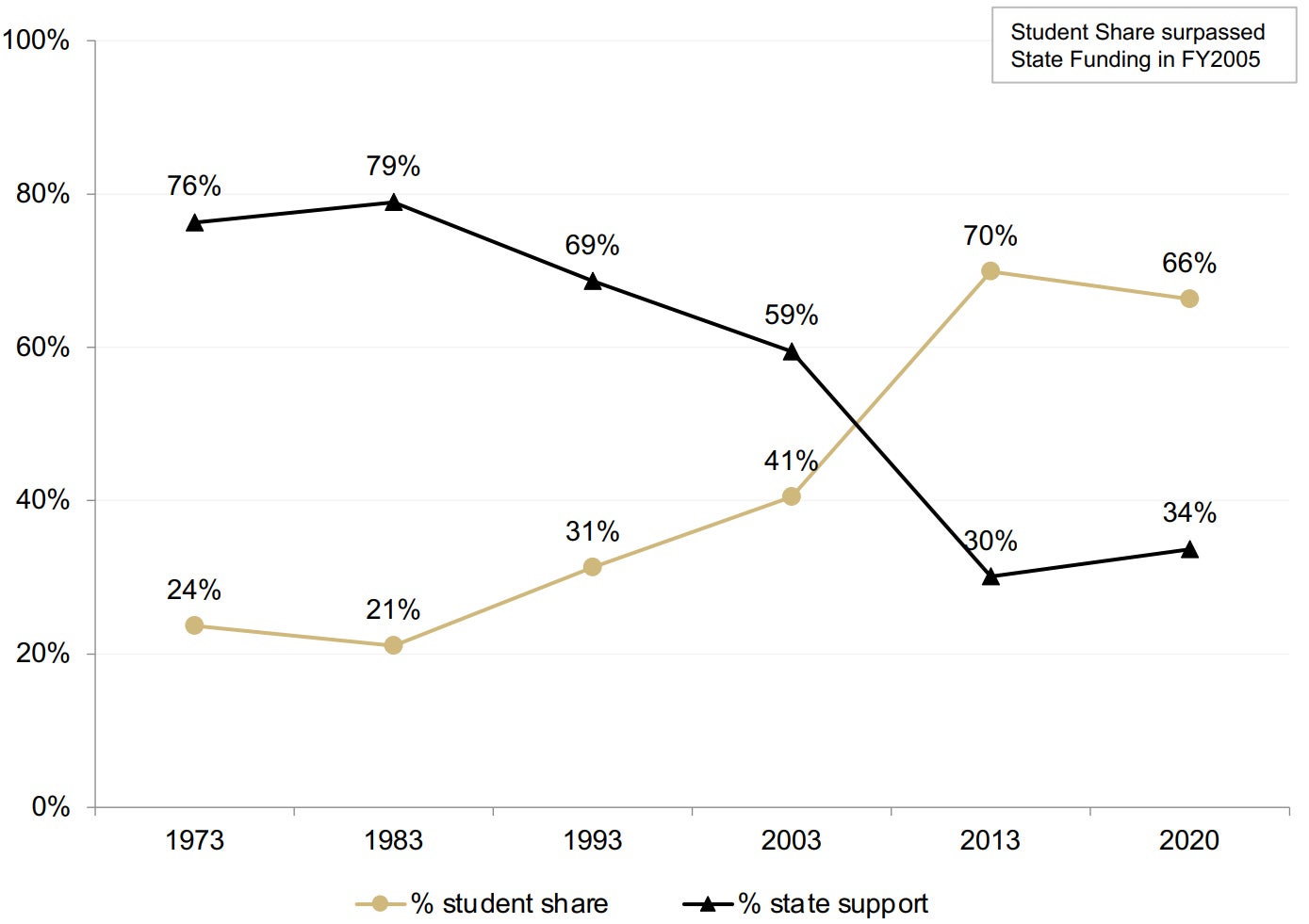 Concerning trends in demographics, state funding and enrollment are directing the attention of university leadership to the need to diversify CU's revenue.
CU President Mark Kennedy devoted a presentation to the topic during the Jan. 7 Board of Regents meeting, an abbreviated, remotely held version of the board's annual winter retreat.
Kennedy pointed first to the precipitous drop in state funding that began nearly four decades ago, with higher education now consistently receiving 8%-9% of the state's general fund appropriations. But for the past decade, CU has grown faster than other universities in the state, he said.
"This puts us in a position that makes it hard to compete with the other premier universities across the land," Kennedy said.
CU and other institutions also are facing a declining number of college-age Coloradans, with a CU study predicting a 15% decline in the number of 18-year-olds over the next 15 years. And a growing number of the high school graduates who pursue college education will be in need of financial aid.
The trends demand investment, Kennedy said, in recruiting and outreach efforts such as CU's Pre-Collegiate Program. Financial aid and student advising also must be bolstered.
By CU fulfilling its research and teaching mission, Kennedy said, diversified revenue sources can be achieved. Actions such as a renewed focus on recruiting international students, recruiting and graduating a higher percentage of high school students, reaching nontraditional students and those still needing to complete degrees, offering more non-degree credentials and investing in online education all will help CU thrive in the years to come.
Last week's meeting also featured campus leaders providing updates on the pandemic and its impact on the spring semester, including vaccination timelines:
Kennedy said preliminary spring enrollment figures are in line with what leadership was expecting. "We are optimistic about fall," he added. The regents will hear a detailed enrollment update at the Feb. 11 board meeting.
The president also presented an update on CU's systemwide strategic planning process, which was suspended last May because of the pandemic. The plan, which aligns with and does not supplant campus strategic plans, already has established four defining pillars and working groups.
Those working groups will resume activity Jan. 22, completing work on goal-setting and providing action steps, expected by Feb. 19. Those steps then would be prioritized in April in order to be reviewed for potential approval by the Board of Regents in July.
Once in place, the strategic plan will sustain focus on a limited number aspirational goals for top, mutually agreed-to priorities that are vital to achieving CU's mission, Kennedy said. The plan will enable the targeting of limited resources by encouraging bottom-up innovation, and will highlight CU's leadership in innovation and entrepreneurship.
Immediately following last week's meeting, the board's three newest members were sworn in during a virtual ceremony. Read more here.