STORY
Three newly elected regents officially join the board
Chavez, Rennison, Spiegel take oaths of office in virtual ceremony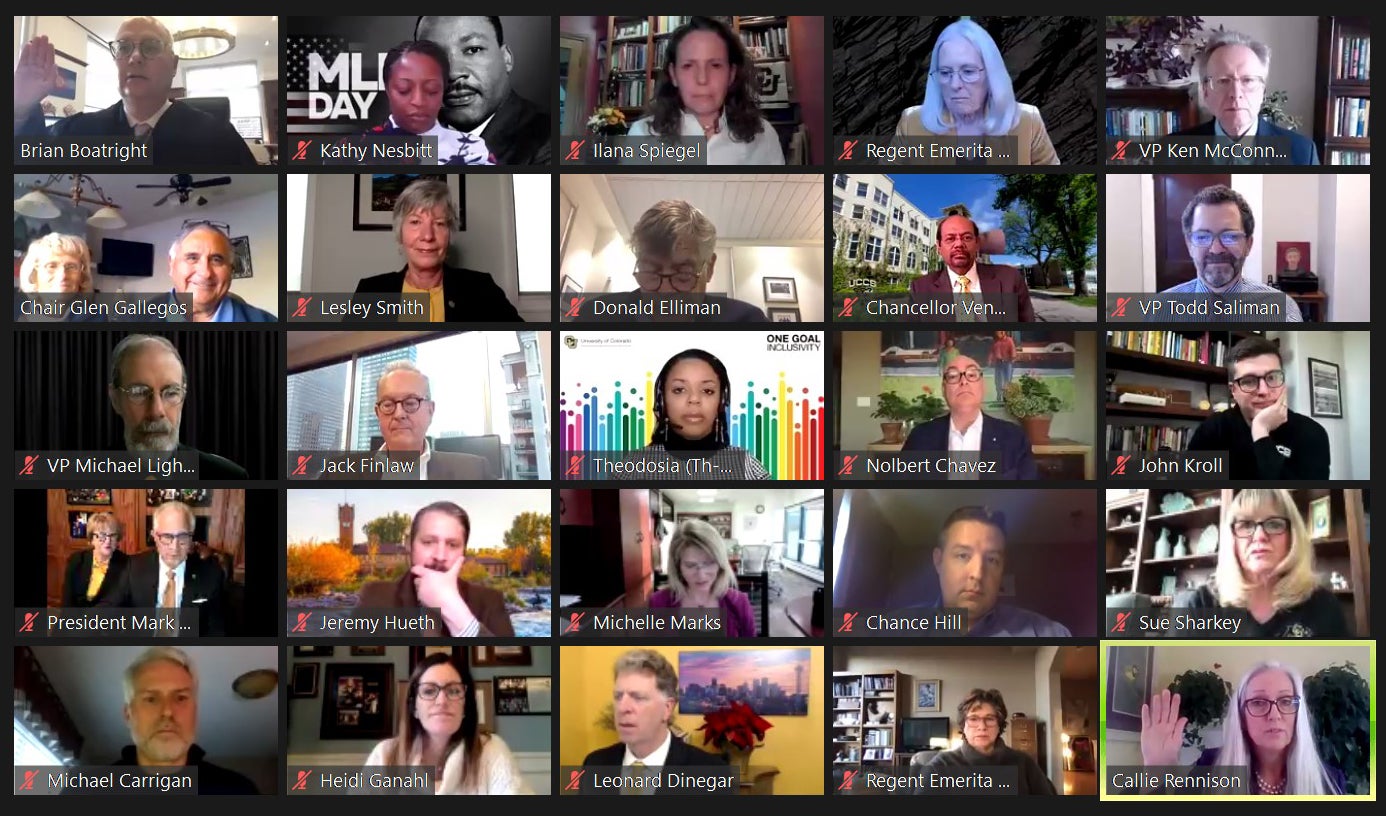 The CU Board of Regents on Thursday welcomed three new members – Nolbert D. Chavez, Callie Rennison and Ilana Spiegel – who took their oaths of office in an online ceremony.
The ceremony was presided over by Colorado Supreme Court Chief Justice Brian D. Boatright. Unlike past such events, the participants were not gathered together in person. Since last April, all board meetings have taken place remotely because of the coronavirus pandemic.
Chavez, Rennison and Spiegel in November were elected to six-year terms. The board sees its Republican majority flip to Democratic (5-4) for the first time since 1980.
"It's clear that Coloradans voted for change," Chavez said. "It's now our job to listen and act."
Chavez, D-Lakewood, represents District 7. The Chief of External Initiatives and Executive Director of CityCenter at CU Denver, Chavez previously served in the state Legislature (1995-2002). He earned his master's in political science and public policy from CU Denver, where he is currently enrolled in the Doctorate in Education and Human Development program. His daughter Hope is a current CU Denver student as well.
Chavez announced that the three new regents will embark on a 100-day listening tour of the CU community.
Rennison, D-Superior, represents the 2nd District. She is a professor in the School of Public Affairs at CU Denver, where here research focuses on sexual and gender-based violence, as well as violence perpetrated against college students, women and marginalized groups. Leadership roles have included associate dean of faculty affairs at CU Denver, and as director of the Office of Equity and Title IX coordinator at CU Anschutz and CU Denver.
Rennison said she is committed to a "people-first philosophy," calling for an increase in lactation facilities at the campuses and ensuring buildings are ADA-compliant.
Spiegel, D-Englewood, has a long career in public education, education policy and governmental budgeting. She earned a master's degree in education from Columbia University. Spiegel spent over five years as a classroom educator and over 10 years as a staff developer, coach, and public education advocate and consultant. She also is the mother of a CU student.
"CU needs to uncover the systems of exclusion that are keeping many in our community from reaching their true potential," Spiegel said. "Today the work to ensure that our best days lie ahead begins."
President Mark Kennedy was among the CU leaders who congratulated the new members of the board.
"Thank you for running, for being willing to step forward," he said. "This is an honor but also a burden, and one I know you will accept and take very seriously."
Kennedy also saluted the contributions of the three regents leaving the board: Linda Shoemaker, D-Boulder, District 2; John Carson, R-Highlands Ranch, District 6; and Irene Griego, D-Jefferson County, District 7.