STORY
Capacity crowd sees Step Afrika! highlight cultures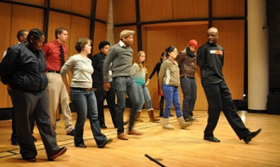 Stepping is one of the oldest traditions in the world and CU Denver Live! along with The CU Denver Office of Student Life hosted an event at the end of February in the King Center Recital Hall to bring this tradition to the University of Colorado Denver campus.
Step Afrika! is the first professional company in the world dedicated to the tradition of stepping. The company was founded in 1994 and has performed worldwide in places such as Europe, Asia, the Caribbean and Africa itself.
The art of stepping and African dance is designed to showcase teamwork, discipline and commitment. It involves various dance movements including clapping, the spoken word and, of course, footsteps. These all are set to complex rhythms.
The performance on the CU Denver stage involved various acts ranging from ancient Africa to the modern day. The free event drew a capacity crowd.
The main goal of stepping is to educate young people on the history of dance as well as be a form of entertainment.
One student attending said, "This was the best use of student funds ever on this campus." Also overheard were numerous enthusiastic comments about the fun, high-energy performance.
You can take a glimpse of Step Afrika! in action here.