STORY
Campus welcomes freshmen with simple message: welcome and get involved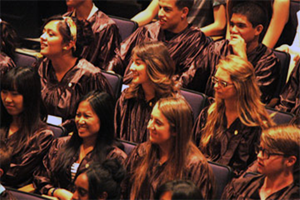 The University of Colorado Denver cranked up the spirit dial at this year's convocation ceremony: academic regalia was worn, Milo the Lynx was afoot, and a rocking seize-your-time message was delivered by a national speaker.
More than 250 incoming freshmen wore gowns to convocation -- a departure from the summery attire typically sported by students. The ceremony serves as a bookend to the graduation ceremony which completes a student's undergraduate academic career.
This year's convocation featured the customary welcoming speeches and barbecue, but added an academic flourish as about 30 faculty members and university leaders donned academic regalia to match the gowns handed out to students at Campus Village Apartments. Throughout the hour-long ceremony at the King Center, a simple message infused the proceedings: Welcome to our family.
Lubna Mazin, vice president of the Student Government Association, told the students that they arrive at an exciting time for the university. This year's freshman class is on pace to be the largest-ever at CU Denver. She also pointed out that "when I began my journey here at CU Denver we had no mascot, no club sports and no identity."
That's all changed, she said, and there are more ways than ever to get connected to the university. "Getting involved help me find my place in the world," Mazin said. "... Student Government, as well as every single person in this room is here to help you -- faculty, staff and your classmates sitting next to you."
Jordan Alvarez, SGA president, said he attended other universities, but CU Denver is where he felt most at home. "Your story starts here," he said. "This is your time, this is your university, this is your chance to gain the knowledge and the understanding it takes to make it in any profession."
Provost Rod Nairn and Raul Cardenas, associate vice chancellor of student affairs, highlighted the many university resources available to students. "There really are hundreds of ways you can get involved on the campus," Nairn said. "We stand ready in every way we can to assist you in your education journey and help you figure out what it is you are passionate about."
Chancellor Don Elliman said the freshman class is an incredibly smart, creative and motivated group. The university faculty and staff are charged to help draw out talent and prepare students for their chosen careers. "But more fundamentally, we want to prepare you as thinkers, as innovators, as creators and doers," he said.
After students put their CU pins on their gowns, author and national speaker Jon Vroman pumped the crowd with his blend of humor and insight. Vroman, author of "Living College Life in the Front Row," said there are two kinds of people: those who spectate and those who take charge of their lives and actually do things.
"A lot of research will tell you that by choosing a front-row seat in college, for example, your grades will go up, your connection with your professor is better," he said. "This seat is highly coveted. It's a metaphor for you lives, but in reality where you choose to be makes a big difference."
Afterward, student Jon Bui said he enjoyed the entire ceremony, from MIX a cappella's rendition of the National Anthem to Vroman's entertaining talk. "That was my first time seeing them," he said of MIX, a CU Denver singing group. "They're really talented."
Yasmin Mansor, an international student, said she especially enjoyed Vroman's message. "If the students had any doubts about being in college, he really motived and inspired them to stay involved."
She added, "Coming from another country, it was a real nice, warm welcome."
Students were reminded about the many fun events coming up in the next several weeks.
Another fun event coming up for students is the Block Party in front of the new Business School on Thursday, Aug. 22. The event will have 1970s theme since CU Denver became an independent institution in 1973, and this year marks our 40th anniversary.
For any questions about support services or other campus programs and events, students should call the Office of Student Life at 303-556-3399.