STORY
Newest club sports team reflects campus's growing international student body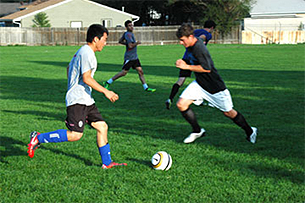 The ball gets crisply knocked back and forth as players glide through drills. The CU Denver men's soccer club team is only a few weeks old, but already this blend of international talent shows promise.
The roster is akin to a United Nations gathering. Players representing Asia, the Middle East, South America and North America are uniting in an understanding and passion for this global game.
Coach Jim Rowe, leading the practice at Washington Heights Park in Lakewood, couldn't be happier.
"There's a lot of international flavor to the team," he said. "The way a kid is brought up to play in Saudi Arabia is different than a kid who grew up playing in Denver. So it can be tricky over the course of a season to get them to play the same way, all on the same page."
But he likes their prospects, especially since there are no egos. "It's the most pleasant group of players I've ever coached," said Rowe, who most recently coached soccer at the University of Maine-Fort Kent. "They just want to come out here and have a good time and work hard."
The men's soccer team is part of a burgeoning Club Sports program in the Office of Student Life at CU Denver. Club sports debuted with men's hockey in 2011 and has now grown to eight current teams and more planned to form soon.
The men's soccer team recently lost its opener, a 2-0 decision to the Colorado School of Mines. Not bad considering the Lynx had only three substitutes on the bench. In mid-September the club ventured out of state to compete in a tournament in Laramie, Wyo.
"We're doing a pretty good job of coming together as a team," said Josh Jarecke, who, as a 30-year-old graduate student, is the oldest player. "It's really cool to see the talents from all over the world come together here."
CU Denver is the most diverse research university in the state. Students of color represent 28 percent of the overall student body, 34 percent of undergraduates and almost 50 percent of new freshmen.
So, it's fitting that the men's soccer team represents this diversity. "Our university as a whole is really coming together, and I'm seeing a lot more community feel to the campus," Jarecke said. "We're trying to ditch that commuter campus kind of thing. These guys here come from all over."
Rowe had only been in Colorado for three days -- he and his wife just moved from Maine -- before he took the helm of CU Denver's men's soccer team. He came across the position on a Colorado Rapids supporters' Facebook page.
"You can definitely tell that he's got a knack for it," Jarecke, who previously played Division I college soccer at Nebraska, said of Rowe. "We were lucky to find him on short notice."
The team still is looking for more players. Visit the Join A Team (click here) page for more information. Additional contact information for each team is available under their respective Orgsync Page at the CU Denver Club Sports website.