STORY
Bonfils names campus its Outstanding Blood Drive Partner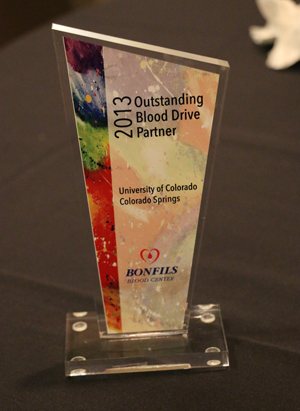 UCCS on Monday was named the 2013 Outstanding Blood Drive Partner by Bonfils Blood Center during a Southern Colorado Community Partner Appreciation Dinner at the Sangre de Christo Arts Center, Pueblo.
Mathew Roesemann, budget analyst, Division of Resource Management, accepted the award on behalf of the university from Bryan Krueger, Bonfils president and CEO.
UCCS was recognized for "going above and beyond" when hosting campus blood drives and contributing to an estimated 2,700 new donors from southern Colorado this year. Each blood donation helps three people. About 70,000 individuals donated blood through Bonfils last year.
In brief remarks, Roesemann lauded blood drive co-chair Ida Dilwood, director, Office of Disability Services, and thanked Megann Powell, events scheduling coordinator, University Center, and Tom Hutton, executive director, University Advancement. He also credited Gayanne Scott, senior executive director, Division of Resource Management, for creating a campus culture of donating blood. Scott previously coordinated campus blood drives and is a 6 gallon donor.
Mathew Roesemann accepted the Outstanding Blood Drive Partner Award from Bonfils Blood Center President Bryan Krueger.