STORY
Attend an Open Enrollment Session on your campus
Informational overviews begin today, continue next week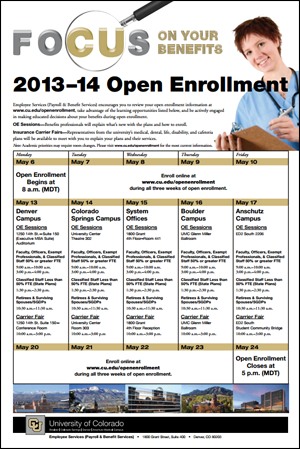 Employee Services' benefits professionals will conduct Open Enrollment (OE) Sessions on each campus beginning today and continuing next week. At each session, University of Colorado benefits-eligible employees and retirees can see an overview of plans, changes, enrollment and can ask questions.
Open Enrollment Sessions are coming to the following campuses:
Today: Spanish and Laotian sessions will run from 9-10 a.m. and 3:30-4:30 p.m. on the Boulder Campus in UMC Rooms 382, 384 and 386.
Monday: CU Denver, 1250 14th St., Suite 150
Tuesday: UCCS, University Center, Theatre 302
Wednesday: System offices, 1800 Grant St., room 441, fourth floor
May 16: CU-Boulder, UMC, Glenn Miller Ballroom
May 17: CU Anschutz Medical Campus, ED2 South 2206
Carrier Fairs will be held at each site from 10 a.m. to 3 p.m. on the same days as Open Enrollment sessions, except during today's session. At the fairs, plan representatives from Anthem BlueCross BlueShield, Kaiser Permanente, Delta Dental and others will be on hand to answer questions about plans and services.
For a schedule and carrier fair details, visit www.cusys.edu/openenrollment/sessions-fairs.html
Questions: call Employee Services at 303-860-4200 and select option 3.
Get Twitter updates
Follow on Twitter at @CUOE for the latest information on OE, ask questions and get reminders for Open Enrollment Session and enrollment deadlines.