SPOTLIGHT
Five questions for Julia Willis
Feminism, family inspire Thomas Jefferson Award winner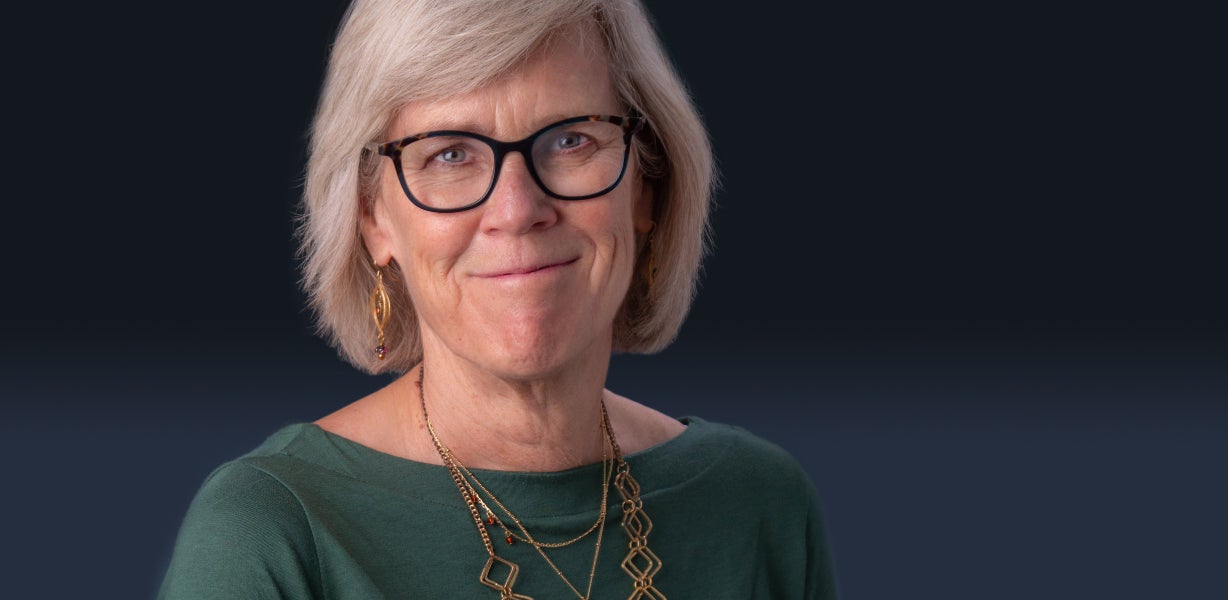 Julia Willis never imagined she would someday be helping college students become success stories when she earned her undergraduate degree from CU Boulder, but she says the path her career took makes sense now, and credits feminism and family for pointing her in this direction.
Willis is director for instruction at the Student Academic Success Center (SASC), which serves more than 2,000 learners from underserved communities, including low-income and first-generation students, and those who have graduated from urban and rural high schools that don't typically send students to CU.
SASC houses TRiO Student Support Services, the McNeill Academic Program, the TRiO McNair Scholars Program, Be First, Bachelor to Graduate Degree, and White Antelope Memorial/First Nations Program, all of which have a success mission particular to the students they serve.
Willis oversees the center's instructional programs, including courses in math, writing, leadership and STEM fields where success in the gateway courses is critical to retaining students in their chosen professional fields.
"Our main mission is to support our students, but in the process, we have developed inclusive pedagogical practices that serve all students, and our work as an incubator of best practices is part of our value to the campus as a whole," Willis says.
She has twice received the Chancellor's Award for Excellence in STEM Education and earlier this year was honored with the Thomas Jefferson Award for her work to expand learning connections within the university, the state and beyond.
"SASC has always been committed to listening to students, in part because they are the experts on their own experiences, and in part because the challenges evolve over time, and unless we really listen to students, our work could become irrelevant," she says.
1. How did you choose this career path and was there a person or event that influenced you?
I think my biggest influence was feminism. I am from a generation of feminists whose main challenge was broadening analysis and action beyond middle-class, white women to include the broad range of experiences of men and women globally.
When I was in college, feminism was fundamentally wrestling with bringing race, class and sexual orientation into the center of the work, through books like "This Bridge Called My Back" and the work of women of color like Audre Lorde, Gloria Anzaldua, as well as Gayle Rubin and other "sex wars" writers. Intersectionality is much more widely understood now, but we were struggling through coalition work to finds ways to talk and act more inclusively.
I was inspired by the women's studies faculty at CU, especially Michele Aína Barale and Janet Jacobs, and by my friends in the Feminist Alliance and Lesbian Caucus. We read and organized and agonized together, and I have continued to work for an equitable community wherever I go. SASC shares this mission of inclusive excellence, and I was able to offer my training and experience as a mathematician, literary scholar and writing teacher in service to this learning community.
2. Your Thomas Jefferson award nomination noted, "Julia's gift to SASC and to CU Boulder has been to expand (the primary connection between teacher and learner) beyond the classroom, not only to include other sites of learning – laboratory, studio, field work – but also to expand the definition of learning community to encompass the campus, its town and our state as the new territory where the success of marginalized learners impacts the broader public welfare of us all." First, how have you expanded learning beyond the classroom, and second, what do the Jefferson and Chancellor's awards mean to you?
Fundamentally, the work of SASC is to support the aspirations of our students. SASC students are mostly first-generation, and they often come to campus not solely for their own ambitions, but to change the destinies of their whole family. We work to get to know them and provide a bridge to campus resources, so they can pursue leadership, professional success, and service in their home communities. I know we are successful at this because I can see their work across the state, as educators, engineers, scientists, lawyers, medical professionals, and political leaders. When we broaden the range of people we educate, CU expands its reach and influence.
One example of "beyond the classroom" might be our embedded study abroad course, where students in our lower division writing course travel to the Dominican Republic over spring break, in a program crafted specifically for our students, with invaluable help from CU's Education Abroad office.
I think all these awards recognize the SASC community. Our Chancellor's Awards for STEM Education funded our development of courses in chemistry and biology that are making contributions to retaining underrepresented students in STEM fields. I am happy to support this work, but credit really belongs to our whole team, especially Rebecca Ciancanelli, our brilliant chemistry instructor and STEM coordinator. All of us working together identified the gaps in student STEM learning and used the awards to fill them.
The Jefferson Award presented a bit of dilemma, because of Jefferson's obviously agonizingly mixed legacy. He unapologetically practiced chattel enslavement and was also a great advocate for education, science and the arts. Jefferson reflects the ongoing contradictions in America's contribution to the world, both deeply democratic and profoundly inequitable. As a white educator working in an intentionally multicultural community, I had to figure out whether and how to accept this award, and I do so in the name of SASC and two generations of visionary educators of color who built the foundation of this learning community.
The Jefferson Award also reflects the values I learned from my family, who taught me to be engaged in civic service. Both of my parents come from farming and ranching families out on the drylands of northeastern Colorado, where members of the community needed one another to get through the worst hard times of the depression. I am from a herding people. My father organized people for all kinds of projects, from building the softball field that was the center of community in tiny Briggsdale, to golf leagues and days of cattle branding on my grandparents' ranch. My mother is possibly the smartest person I know, and she has lived a life of community service, including work with the invaluable League of Women Voters, where she is still leading voter information programs to educate people in a nonpartisan way about ballot initiatives.
3. Are there other projects you are working on?
SASC always has lots of projects in the works. One of the reasons I love working there is because it is a learning, forward-thinking organization.
My biggest new project is developing a robust network of our alums. We have alumni going back to the late 1960s, including students who were in Educational Opportunity Programs, Fall Institute, the University Learning Center, and two generations of TRiO students. We hope that alumni in varying stages of their careers would love to meet and mentor our current students and draw on each other for career development. We are conducting a community engaged research project to identify and reach out to our alums in hopes that they will be willing to offer job shadowing, informational interviews and other professional development opportunities to SASC students.
We also currently have a departmental UROP grant and are working to build a culture of undergraduate research throughout our department. We have just started a partnership with an important local research facility to build a pipeline where students can develop research skills in a supportive, equity-minded environment.
4. What is one (or more) of your favorite memories from your time at CU?
My favorite CU memories are probably not suited to publication, including slightly extra-legal actions from my undergraduate years. The ready-for-prime-time memories all involve powerful student voices, including graduate and alumni speakers at our graduation celebrations. I'm thinking about Jim Do, a physician who graduated from CU's medical school, after being told that he would never be accepted and should switch to another career track. Or Sabrina Sameshima, who is now an immigration attorney and created a grant at her law firm for SASC students to take an LSAT prep course. Or Dorje Dolma, a Boulder artist who has published a wonderful memoir called "Yak Girl" about growing up in a tiny village way up in the mountains of Nepal.
We have a one-credit class called Leadership and the Art of Storytelling, in which students craft their stories and tell them live on stage. It was developed after a lot of work in our writing program and with contributions from students who said they wanted to have a performance venue. The first event, in 2012, was one of the most moving things I have ever seen in my work. Seeing those young people, standing on stage, talking about really difficult or funny or raw experiences – the world cracked open for me. It was a shining moment. The students were embraced by the community and the bravery and brilliance of those students empowered others to tell their own stories. We've continued to do this once a year as a home-family event, with students inviting family and friends and staff to attend. Trusting students to lead always pays dividends.
5. What leisure activities do you enjoy and why did you write a guide for families titled "Key Issues and Resources for People With Aging Parents"?
I learned bird watching from one of my longtime pals, Tara Tull, who worked at Metro State University in women's studies and human services for many years, and it has become a major family activity. My sisters, my parents and my aunts have all become enthusiastic birders, and we have done a lot of traveling to see the stunning array of North American birds. What I love most about birding is the chance to be outside and see nature everywhere, including weedy field margins and birds that have taken to roosting atop fast-food restaurants in Florida (the crested myna). It is a great exercise in patience and observation, because you might spend 15 hours seeing nothing and then get a four-second look at a rare bird that makes the whole back-breaking day worth it.
I am strictly an occasional poet. I write for particular people on particular occasions. I am drawn to traditional forms, like the sonnet and sestina, and enjoy crafting the details of time, place and relationships into memorable forms. But never for publication!
I love choral singing because it feels like the most fully human thing I do. I am singing in Resonance, a Boulder women's chorus, whose director, Sue Coffee, is community-minded and musically, politically and aesthetically engaged in sharp, original ways. She has brought together a wonderful community of kind, smart, funny women. Like teaching, choral singing takes everything I have: all my intellectual, emotional, social, physical and organizational intelligences. I feel alive all the way out to my skin in Resonance.
My father died from Alzheimer's disease, over the course of about eight years, and seeing him through this illness with my family taught me a ton about how to be with people who are aging and dying. When he was first diagnosed, I was knocked out completely, unsure how any of us would manage such a devastating disease, but we figured it out, one terrible, funny, painful, lovely day at a time.
I wrote a draft of a handbook in order to share what I had learned with other people who are grappling with issues of aging and dying, our own and that of the people we love. The document reflects my way of thinking, that is, it's a combination of storytelling and bulleted lists, perhaps typical of someone who loves literature and language and has spent half a career as an administrator, where the day is often saved by a great "To Do" list. Right now, the guide is a Google doc, and I'm hoping that other people will add their own stories and advice. I would like it to be a community resource, handed off person-to-person as needs arise.
I don't know that I have insight beyond just a deep belief that we should pay attention to aging and dying and not insulate ourselves or sanitize those experiences. There is great meaning to be found and made in these difficult moments, and I am grateful to have grown up near my beloved extended family where I was able to witness the grace and wit of the sick and the old.