SPOTLIGHT
Thomas Jefferson Award honorees exemplify CU's best in service, leadership
Three members of university community celebrated at awards dinner
Representing the faculty, staff and student populations, three University of Colorado community members have been named recipients of the 2018 Thomas Jefferson Award. It is among the highest honors given at CU, the state's largest institution of higher education.
The awardees were chosen for embodying and advancing the ideals of Jefferson, the third U.S. president and a Founding Father who greatly influenced American arts, sciences, education and public affairs. The annual Jefferson Award recognizes CU faculty, staff and students who demonstrate excellence in the performance of regular responsibilities at the university while also contributing noteworthy service to the broader community.
The 2018 honorees are:
Faculty, John Harner, Ph.D., University of Colorado Colorado Springs
Staff, Julia Willis, Ph.D., University of Colorado Boulder
Student, Lígia Batista Silverman, University of Colorado Boulder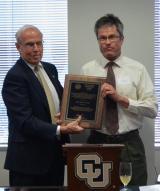 John Harner, Ph.D., is a professor in the Department of Geography and Environmental Studies at UCCS. He has been with the university since 1997, when he began his career as an academic. Harner spent 2005-06 as a Fulbright Scholar in Guadalajara, Mexico. His latest, co-authored edition of the textbook "Human Geography in Action" was published in 2013. He partnered with the Pioneers Museum in Colorado Springs to create the Story of Us exhibit (2017-present), which has helped advance knowledge of the community, culture and landscape of the city of Colorado Springs and surrounding region. His nomination emphasizes how he inspires his community – the university, academic communities and municipality – by contributing time and effort in encouraging fellow citizens to engage civically. He is an ardent advocate and supporter for equity and inclusion on campus and beyond.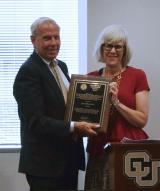 Julia Willis, Ph.D., is an assistant director for instruction for the Student Academic Success Center (SASC) at CU Boulder. Since joining the university in 1998, her versatility in administration and pedagogy has allowed the campus to use her skill sets in creating holistic learning experiences for students. Willis twice received the Chancellor's Award for Excellence in STEM Education (2014-15; 2015-16). As summarized in the Thomas Jefferson nomination, "Julia's gift to SASC and to CU Boulder has been to expand (the primary connection between teacher and learner) beyond the classroom, not only to include other sites of learning – laboratory, studio, field work – but also to expand the definition of learning community to encompass the campus, its town and our state as the new territory where the success of marginalized learners impacts the broader public welfare of us all." Her interests, activities and endeavors beyond service to the university include birdwatching, poetry and choral singing; she also developed a guide for families, "Key Issues and Resources for People With Aging Parents."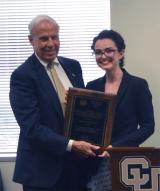 Lígia Batista Silverman is a student of CU Boulder's Post-Baccalaureate Health Professions Program. Before entering the program, she earned a master of arts in theater at CU Boulder and a bachelor's degree with concentrations in neuroscience and theater from a Canadian institution. Her educational endeavors have spanned the academic spectrum and have served as a nexus in melding arts, sciences, medicine, social justice and community. At Children's Hospital Colorado on the CU Anschutz Medical Campus, she has worked on a clinical research team leading "many conversations among (the) team members ... challenging (them) to consider what it means to be committed to an individual's rights, especially when the individual is a child." Some of her work includes her thesis on the role of interactive theater at CU Boulder, co-authoring and performing in a play aiming to destigmatize mental health issues, and implementation of individualized, holistic protocols for participants in clinical research. The nomination illustrates how her work, independent of the subject matter area, consistently strives to create a more equitable, just place for people in need.
Winners of CU's Thomas Jefferson Awards are selected by a committee of CU faculty, staff and students. Recipients receive an engraved plaque and a $2,000 honorarium.
The three honorees gathered with family, friends and their nominators to receive the awards May 9 at a dinner hosted by the Office of Academic Affairs at 1800 Grant St. CU President Bruce Benson presented the plaques and spoke; also making remarks and congratulating the winners were Michael Lightner, vice president of academic affairs, and John Carson, a member of the Board of Regents. Carson won a Thomas Jefferson Award in 1983 while a student at CU Boulder.
The Thomas Jefferson Award was established at the University of Virginia in 1951 by the Robert Earll McConnell Foundation to honor teaching faculty who exemplified the humanistic ideals associated with Jefferson. By 1962, six other institutions – including CU – had established a Jefferson Award. In 1980, the university added a student category; in 1988, the staff category was approved. Funding for the awards is derived from earnings on an endowment provided by the McConnell Foundation and from a bequest by Harrison Blair, a CU alumnus.