SPOTLIGHT
Five questions for John Harner
Thomas Jefferson Award winner uses natural world as teaching laboratory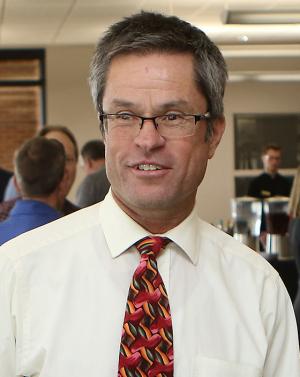 John Harner has been described as a champion of a liberal arts education, and how it's a way not only for individuals to achieve their best, but also for how it benefits the public good and a functioning democracy. It's just one of the reasons he was honored with a University of Colorado 2018 Thomas Jefferson Award, which recognizes service to the university and the community, a sense of civic responsibility and a commitment to the welfare and rights of the individual.
Harner, a professor of geography and environmental studies, has been at the University of Colorado Colorado Springs since 1997. He said UCCS is the perfect fit for him because "it is a terminal master's degree program that has a good mix of teaching and research that is not skewed too much in either direction."
Harner has dual interests: one in the technical side of geography, including computer mapping and geographic information systems (GIS), and the other in cultural geography, which is more interpretive. After earning a bachelor's degree in geography, he went into the private sector, which was where the jobs were, he said, but then returned to graduate school to do more study on the cultural aspects of the discipline to learn more about the built landscape and historically oriented geography.
Since then, he said, he has tried to blend the two interests. While his current focus is more local, he was a Fulbright Scholar at the Universidad de Guadalajara in Mexico in 2005. He loves Mexico and hopes to one day re-engage in research relating to the country.
He works to inspire curiosity in all his students.
"I want them to pay attention to their world and ask questions and don't take things for granted," he said. "I want them to look around and pay attention to the environment they live in."
1. You have been called a "champion for a strong public education system that incorporates a broad interest in literature, arts and sciences." Why do you feel such an education is important?
I feel that education is for the public good and for the benefit of each individual. I like to say that a liberal education is a liberating education. I think everyone wants to achieve their highest potential and education is a vital part of that. And for the public good, it is vital for democracy to function. We need an informed public and some people are woefully, as we see today, unable to critically analyze fact from fiction and truth from non-truth and evaluate data.
I understand the economic side of it, and the conservative view that we shouldn't be funding public liberal arts education, but that more job training skills-based education should be available. I understand the argument that graduates should be contributing to the economy if we put public money into their education. That's a very narrow view, from my perspective. That's not only what a liberal arts education should be. It should be broad; kids don't know what they want to do, and they should be able to explore options. The argument is that we shouldn't use taxpayer money for kids who are going to get a degree that is of no value to the state, but how do you measure value?
2. In May, you received a 2018 University of Colorado Thomas Jefferson Award. What does this honor mean to you?
I value the Thomas Jefferson Award because of what it stands for – a commitment to higher education and creating an informed and engaged citizenry. It represents everything we've been talking about plus my own work. I'm grounded in the social sciences, but as a geographer, that always crosses into the natural sciences of the world. Lately I've been working in the humanities for a museum project where we are creating digital historic maps and photography that the public can engage in. It's public history. I think that the breadth of liberal arts education is part of what the Thomas Jefferson Award is about. I'm happy about receiving the award because I try to exemplify that and I, fortunately, have the ability to do that here at UCCS, perhaps more so than at another campus focused more on research. We always take our students outside and use the natural world -- our environment -- as a teaching laboratory, and I think that gets students interested in their place and engaged with their community. I think that is also part of what the award is for. It is a great honor.
3. One area of interest for you is "Political Economy of Place." What does this entail?
As a geographer, I am interested in place identity and place personality and people's connection to place and what makes place different and unique. Certainly, the physical environment is a part of that – landforms and the climate – but my focus is the cultural landscape, or how humans modify the Earth, including the buildings we build and the shape of the cities that are the reflections of our values. That's a function of socio-economics and policies and culture. It brings in all the humanities and all the social sciences to show how society functions to create place.
I mainly study cities, the urban environment, and small towns, too. As I said, the landscape we build is a reflection of our values. Even in Colorado, the difference between Boulder and Colorado Springs is a function of the political environment in which they operate. For instance, there is lots of symbolism in the buildings and architecture we create. Look at the government buildings. They reflect symbols of democracy; corporate skyscrapers reflect corporate might.
4. You were involved with the planning of the Browns Canyon National Monument. What was your role and why this project?
The Browns Canyon project was perfect for our department because we were working with the regional community, issues of public lands and resource management and using geospatial tools, which is where I came in, using GIS. Our work was done in the pre-planning stage. Before creating the land-use plan for the new monument, the Bureau of Land Management (BLM) and the Forest Service wanted to gather public input on how people perceive the space and how they use it and what values they attach to different parts of the monument.
We held big public meetings and the attendees drew on maps and answered questionnaires and identified places that were special to them. We compiled that into a series of maps and tabulations and reports that the BLM and Forest Service can use as they go about the next phase. They are actually starting the planning phase, and they will engage with the public again, but now they have some baseline data to work with, which is something they never used to do. This is brand new for the BLM, but the Forest Service has been testing this, and so this was a test project. I think it was very valuable for them and for our students, too.
5. What are you currently working on and have you learned anything that surprised you?
I'm on sabbatical for the semester and am working again in our local history museum in their archives and writing a book about Colorado Springs. Our 150th anniversary is in 2021 and I want to have the book published and out by then. It looks at the big drivers that shaped this city and what created its unique personality. It's historical geography, not just a history dealing with influential people and their stories. It's about the landscape and what is shaping Colorado Springs, like water, and the economic history of the city. It will also deal with more contemporary things like the conservative political culture and the military.
The book has been delayed because as I was working on this project over the last six years, the museum people loved it, and so we turned it into this big digital exhibit called "Story of Us." It's all online or you can see it at the Colorado Springs Pioneers Museum. The public can explore the exhibit at the museum on big touchscreen computers or at home on web browsers and look at the history of the city through all sorts of animations. (Visit the exhibit online at http://www.cspmstoryofus.com/ )
I've learned surprising and unique things every day. Here's one thing that some people might already know. Colorado Springs has a conservative image and reputation. But in the 1920s, as the Ku Klux Klan (KKK) was running Denver and the state, Colorado Springs was the main center of resistance and started a rebellion against that. The governor was answering to the Grand Dragon and the KKK tried to take over Colorado Springs' City Council and the school board. Business people here resisted and fought the KKK. So you can thank Colorado Springs that the Klan didn't take over Colorado.