SPOTLIGHT
Five questions for Angela Gover
Honored for teaching, CU Denver professor studies intimate partner violence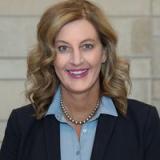 Among her many awards, Angela Gover earned the CU Denver School of Public Affairs (SPA) Faculty Teaching Award in 2019, an award she also received honorable mention for in 2018 and 2020. She calls the recognition "truly validating."
"As the School of Public Affairs (SPA) has increased online course offerings in recent years, I've adjusted my teaching philosophy to incorporate much more active engagement on my part to keep all of my students, some of whom I might not meet face-to-face, actively engaged and learning," she said. "I make a directed effort to be more present, available, and remain aware of each student's progress in my courses. I have a deep passion for the subject matter, and I aim for my teaching to reflect that. My goal is to change students' lives by bringing awareness to the prevalence and consequences of violence against women."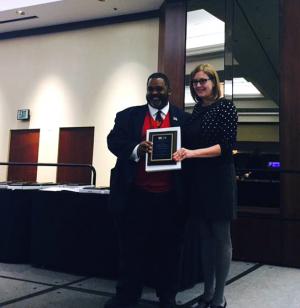 Gover, a professor of criminology and criminal justice, studies intimate partner violence and issues surrounding the topic. She came to CU in 2006 for her "dream job."
"I had always been an applied researcher and was especially attracted to the exciting community connections, energy, and policy emphasis that SPA offered," she said. "Additionally, I was born and raised in New Mexico and always wanted to settle down in Colorado as I spent a lot of time skiing and camping here growing up. After I got the job and moved to Denver, it felt like home immediately."
Although she originally thought she would attend law school, her direction changed after taking an undergraduate course in victimology. She became passionate about the impact of crime on individuals and society and concerned about how the criminal justice system responds to crime.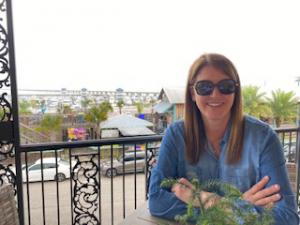 Her other passion is travel.
"I caught the travel bug early in life from spending summers on long family road trips in my family's VW van," she said. "I have so many fond memories pushing that thing to get it going, from Seattle to New York! So far, I have visited 46 of our 50 states – look-out Maine, lobster sounds pretty good about now."
She also enjoys international travel and recently had the opportunity to lead a Gender Violence study-abroad class in Barcelona, Spain. It was an amazing teaching experience, she says, incorporating her interests in travel, her passion for the topics of victimology and gender studies, and her personal interest in global culture.
1. Reports of domestic violence have increased across the country in recent weeks. Have stay-at-home orders contributed to the increase?
That is a great question. For people experiencing domestic violence, home can be a very dangerous place. Stay-at-home orders can make an already perilous situation even more dangerous for victims. It's important to maintain awareness that some victims are being forced to stay at home with their abusers, thus enabling abusers to use the pandemic as a tool to further isolate, coerce and control them.
The ability to reach out for help is almost impossible when your abuser is monitoring every move you make. We are seeing calls for service for domestic violence increase in a number of cities across the country. Reports of domestic violence have definitely increased because of these orders.
2. Are domestic violence patterns different in different segments of society?
Intimate partner violence (IPV) occurs across all cultures, religions, ethnicities, income levels, sexual orientations, age groups and education levels; IPV does not discriminate. Even with IPV being significantly underreported to law enforcement, it is the most commonly reported violent crime that comes to the attention of the police.
One overarching theme to my research has been a focus on how the criminal justice system responds to violence against women. To this end, I've examined interview data from a sample of IPV survivors who interacted with victim services in Denver, in order to better understand why some IPV victims chose not to engage in formal help-seeking, like calling the police.
The most common reason survivors gave for not contacting law enforcement after experiencing an intimate partner violence incident was having been treated badly by the system in the past (i.e., they felt that the police treated them poorly, or they did not agree with the outcome of a previous case).
The second most common reason survivors cited for not reporting was concern that what had happened to them would not be deemed significant enough or that they would not be taken seriously.
The third most common reason victims cited was fear of negative consequences for themselves and/or their children.
It is crucial to shine a light on the nature of IPV victim experiences in order to understand the barriers they face, and to better connect them with effective services.
3. You've also studied personal protective orders. Do these orders generally protect victims?
Protection Orders (PO) are the most utilized form of relief for intimate partner violence victims. The orders aim to deter future violence, threats or intimidation while increasing victim safety. They also provide a pathway to assistance for victims who do not want to pursue a criminal case. Previous studies on the impact of Protection Orders offer mixed results in terms of effectively deterring IPV, with effectiveness usually measured according to PO violations and victims' perceptions.
I recently conducted a nationwide assessment of states' PO statutes according to an empowerment framework (empowering facilitators, for example, include gender-neutral language, inclusion of same-sex couples, waiving of filing fees, and provision filing assistance). Results from this study indicated that there is little consistency across state PO statutes in regard to 23 empowerment facilitators. This research was published in "Journal of Interpersonal Violence" and "Violence Against Women."
4. You've also studied offender interventions and treatment. What have your studies found?
In studying offender treatment on a nationwide level, I have found that the most important aspect of Colorado's approach to domestic violence offender treatment is the state's use of a differentiated treatment approach for offenders. This aspect of treatment makes Colorado a leading and progressive state in the United States with respect to our domestic violence offender treatment philosophy. Other states, for example, follow a "one size fits all" approach to offender treatment, whereby all offenders are sentenced to the same number of weeks of treatment. Colorado, however, follows a non-time-driven treatment philosophy that results in differentiated treatment tailored to the individual offender's risks and needs. This approach is consistent with research, including my own, indicating that offenders are a heterogeneous group of people with a correspondingly diverse set of treatment needs.
5. What area of study are you engaged in currently?
Something I am currently working on that I am really excited about is developing an empirical definition for the term "victim friendly." This is a term that is commonly used in the literature in reference to statutes, policies, procedures, guiding philosophies, court systems, direct services, legal responses, and criminal justice system interventions that are subjectively determined to be favorable to crime victims in some way. Despite the widespread use of this term (I've used it in my own research), it has yet to be defined. I am working with a colleague from another institution to analyze interview data with victim advocates who were asked about their opinions as to what constitutes a "victim-friendly" court. In addition to providing the literature with a definition of this concept, we hope that this work will assist practitioners in the development of victim-friendly court systems.