SPOTLIGHT
Faculty Council celebrates contributions to shared governance
Annual awards presented to administrators, EPUS committee chair
The Faculty Council last week celebrated one of its longtime members and two administrators for their contributions to the success of shared governance across the University of Colorado.
Two Administrator of the Year Awards – Michelle Martinez and William Kaempfer, Ph.D. – were announced, while David Thompson, Ph.D., received the Distinguished Service Award. The awards were presented at the April 26 meeting of Faculty Council and Faculty Senate at 1800 Grant St.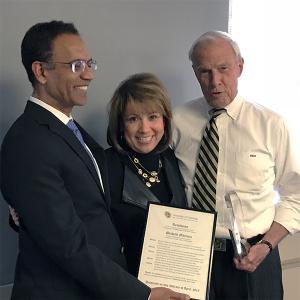 Martinez, director of benefits at the CU system, was recognized for the leadership and knowledge she has shared throughout her 18-year career at the university. The council's resolution honored her for showing genuine care and understanding for the needs of faculty and staff, and for cultivating a culture of excellence in service. Specifically, she was cited for her outstanding support of Faculty Council and its Personnel and Benefits committee. She and members of her family, including parents Lee and Adele Martinez, were present for the award presentation.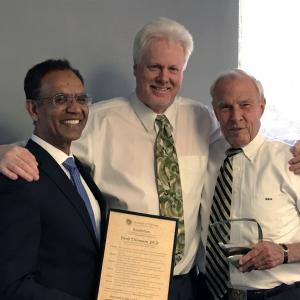 Kaempfer, who has served CU Boulder for 36 years as professor of economics and senior administrator for budget and planning, will receive his award at today's Faculty Council meeting at 1800 Grant St. The resolution spotlighted his service to the Boulder Faculty Assembly and tireless work at promoting and improving the working conditions and professional profiles of teaching faculty at CU Boulder.
Thompson is associate dean for Academic Affairs and associate professor in the Department of Clinical Pharmacy at the CU Skaggs School of Pharmacy and Pharmaceutical Sciences at CU Anschutz. He was praised for unsurpassed guidance and service to the council's Educational Policy and University Standards (EPUS) committee, which he chaired, and to the Regents Awards committee. His leadership and vision helped inform the critical review of Article 5 from the Regents Laws and Policies. The resolution also thanked Thompson for how he "has enlightened us all with his Australian humor."
President Bruce Benson presented the awards with Faculty Council Chair Ravinder Singh.
In other business at last week's meeting of the Faculty Council and Faculty Senate:
Regent John Carson discussed matters of interest with the council, including his concern about the "very high level of civic ignorance in America today." He has said he'd like CU to consider civic education a graduation requirement. As chair of the board's University Affairs committee, he said he'll lead a review of a report on civics requirements at 54 peer institutions, 17 of which already have such requirements in place. Carson also said he'd like the board to be more involved in budget matters several years in advance. "As a regent, I'm not as engaged in that budget process as I'd like to be," he said.
A proposed Administrative Policy Statement that addresses bullying in the workplace is working its way forward, reported Patrick O'Rourke, vice president of University Counsel and secretary to the board. "A lot of this is cultural and will take the efforts of you, faculty representatives, to spread the gospel," he said. The council approved a memo that lists changes advised by the council's executive committee.
Michael Lightner, vice president for academic affairs, said proposed changes to Article 5, a review of which the council has contributed to for the past several months, will be presented to the president and campus chancellors today. The regents' Governance committee is expected to begin reviewing the document at its May 23 meeting.
The council elected new officers for the next academic year. They are:

Joanne Addison, chair
Maja Krakowiak, vice chair
Tamara Terzian, secretary