SPOTLIGHT
CU at the Winter Olympics in Beijing
Athletes with ties to university to compete in games beginning Feb. 4

University of Colorado Boulder, CU Colorado Springs and CU Anschutz Medical Campus athletes are on their way to Beijing for the XXIV Olympic Winter Games and XIII Paralympic Winter Games.
As of Friday, 10 CU students and alumni – representing five countries in six sports – are expected to be competing in the Olympics, Feb. 4-20, and Paralympics, March 4-13.
CU-connected athletes include: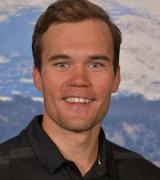 Alvar Alev, Nordic Skiing, Estonia
CU Boulder, senior, ethnic studies
In his two-year career as a Buff, Alev skied in 23 career races and finished in the top five in all but five of those (18) with 10 top five finishes, six podium appearances and three race victories. A balanced skier, exactly half of his top 10 finishes, his top five finishes and podiums came in each discipline.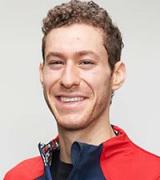 Jason Brown, Figure Skating, USA
University of Colorado Colorado Springs, communications
At the 2014 U.S. Championships in January, Brown won the silver medal and competed at the 2014 Olympics in Sochi, Russia, where he won the bronze medal in the team event and finished ninth in the individual event. Brown won his first senior U.S. title in 2015. Read more in UCCS Communique.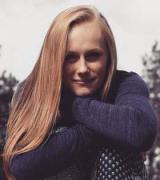 Stacy Gaskill, Snowboardcross, USA
CU Boulder, Sophomore, integrated physiology
Gaskill, born and raised in Colorado, started skiing by age 2 and snowboarding at age 8. She also plays Ultimate Frisbee for the CU Women's Ultimate A Team. In 2014, her inaugural year in Boardercross (SBX), she was No. 1 in the Rocky Mountain Series for Breakers (13-14 years) winning five golds, one silver and one bronze. Finished 12th at Nationals.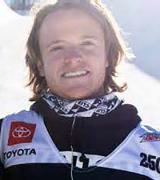 Taylor Gold, Snowboard Half Pipe, USA
CU Boulder
Gold is a Copper Mountain U.S. Grand Prix/World Cup champion (2013-14); a Mammoth Mountain U.S. Grand Prix silver medalist (2013-14); Breckenridge Dew Tour bronze medalist (2013-14); World Snowboard Tour standings, 11th (2012-13); and a Junior World Championships silver medalist (2011).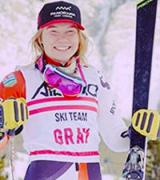 Cass Gray, Alpine Skiing, Canada
CU Boulder, freshman, integrative physiology
Gray made a huge impact in her freshman season at CU. She had the fastest second run in the field in her first career race and then had the fastest first run later that afternoon before taking the DNF (did not finish). While skiing for the Canadian National Team, she raced in six of a possible 12 races in 2021, finishing five, with three top 10 and two top five performances.
Petra Hyncicova, Nordic Skiing, Czech Republic
CU Boulder, bachelor's in integrative biology, master's in integrative physiology
Hyncicova became the 15th woman to sweep the cross-country races at the NCAA Championships when she won the freestyle and classical national titles in 2017, a year she was named the national women's Nordic skier of the year. In 28 career races, she has finished fifth or better in 20 of them with five victories.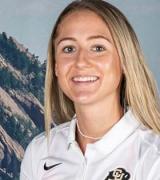 Weronika Kaleta, Nordic Skiing, Poland
CU Boulder, sophomore, undecided
Kaleta earned second-team All-America honors and was named CU's Outstanding Nordic Woman after a solid freshman season during which she quickly established herself as a podium candidate and consistent top 10 threat on the college racing scene.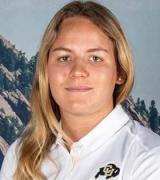 Magdalena Luczak, Alpine Skiing, Poland
CU Boulder, freshman, business
Luczak has two World Cup starts to her credit and also competed at the 2021 World Championships in Cortina d'Ampezzo, where she finished 19th in the giant slalom race, four spots ahead of Cass Gray, then considered the top World Championship finish for a women's alpine skier in CU history.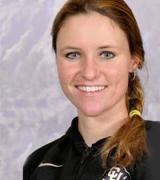 Joanne Reid, Biathlon, USA
University of Colorado Boulder, applied mathematics, '13; master's in engineering, '17
Reid entered her final season already firmly established as one of the top skiers in program history. She finished her career as a seven-time All-American, including five first-team honors, and is a four-time first-team All-RMISA selection.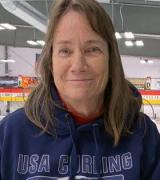 Pam Wilson, M.D., Wheelchair Curling, USA
University of Colorado Anschutz Medical Campus, faculty, Department of Rehabilitation
Wilson will be competing in the Beijing Paralympics, March 4-13. She started curling in 2010 and has competed in many national track, field and swimming events before going to medical school. Wilson was a member of the U.S. Pan American team for track and field; won the Hall O'leary Colorado Rockies Award for community involvement; and was inducted into the hall of Fame for Wheelchair Sports USA.
Read more on the Buffs at the Beijing Olympics in CU Boulder Today and at cubuffs.com.
Did we miss anyone? If so, please reach out at cathy.beuten@cu.edu and we'll update the list.