SPOTLIGHT
CU community members honored for multi-faceted leadership
Jefferson Awards celebrate excellence at university and beyond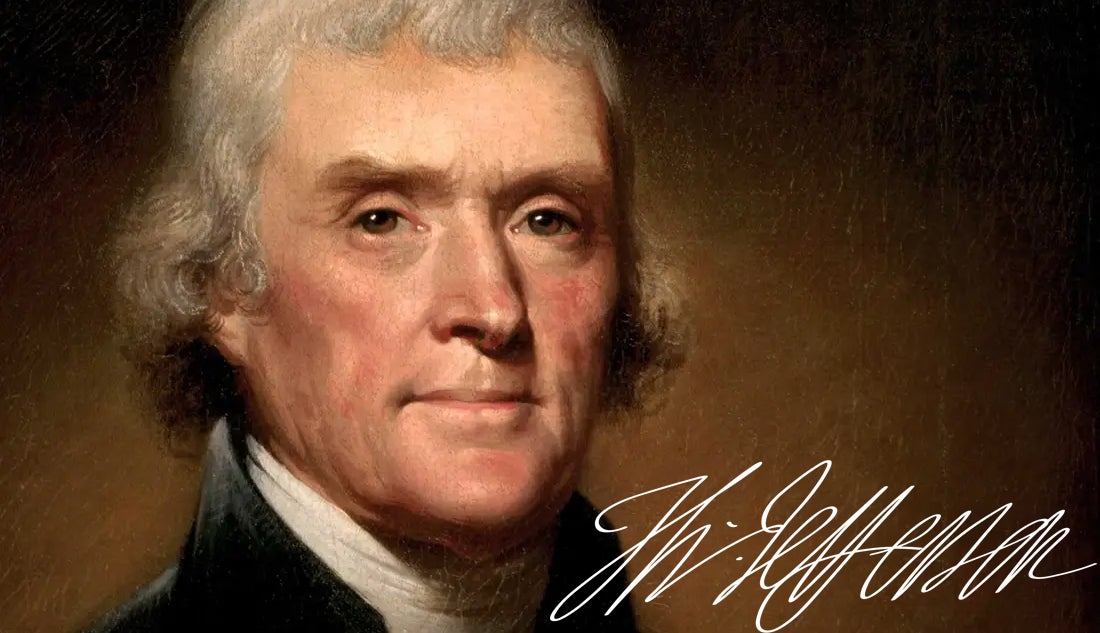 Three University of Colorado community members have been named recipients of the 2020 Thomas Jefferson Award, among the highest honors bestowed at the state's largest institution of higher education.
The recipients, who were celebrated Sept. 16 during a virtual awards ceremony, are: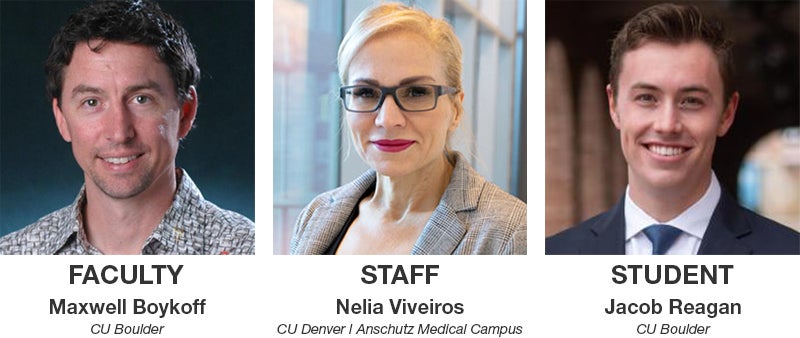 Named for the third U.S. president and a Founding Father who greatly influenced American arts, sciences, education and public affairs, the annual Jefferson Award recognizes CU faculty, staff and students who demonstrate excellence in the performance of regular responsibilities at the university while also contributing noteworthy service to the broader community.
The awardees were chosen for embodying and advancing the ideals of Thomas Jefferson: broad interests in literature, arts and sciences, and public affairs; a strong concern for the advancement of higher education; a deeply seated sense of individual civic responsibility; and a profound commitment to the welfare and rights of the individual.
Professor Maxwell Boykoff is director of the environmental studies program at the University of Colorado Boulder. He also is a Fellow at the Cooperative Institute for Research into Environmental Sciences (CIRES) and the co-founder and co-director of Inside the Greenhouse, an initiative to inspire creative climate communication, as well as co-founder of the Media and Climate Change Observatory, which tracks media coverage of climate change around the world.
Boykoff is a contributing author to the United Nations Intergovernmental Panel on Climate Change (IPCC) Sixth Assessment Report, and has served on an Independent Science Panel for the Deep South Challenge, led by the New Zealand government (since 2015), as well as on the Research Oversight Committee (ROC) for the societal research aspects of the 'CoAdaptree Genome British Columbia' research project in Canada (since 2017). Internationally, he is an Advisory Board member for the Global Sustainability Film Awards.
At the national level, Boykoff has participated in three Scientific Integrity Roundtables in the U.S. Senate offices. These have involved U.S. Congressional Senate leadership along with U.S. House leadership and leading researchers and practitioners who work on elements of climate change, policy and public engagement.
Nelia Viveiros currently is associate vice chancellor for academic operations and interim vice chancellor for diversity and inclusion, the latest of many key roles she has held at the University of Colorado Denver | Anschutz Medical Campus.
In her role as associate vice chancellor for academic operations, she continues with the oversight and leadership roles of previous positions, but also has several additional critical responsibilities, including liaison to the CU Board of Regents Governance Committee. In this role, she streamlines university policy and procedure and ensures consistent messaging between the system office and campuses.
In her normal course of work, Viveiros has re-envisioned and implemented entire offices of critical importance to the success of the Denver and Anschutz campuses. One example is the development and implementation of the Office of Equity at the downtown and Anschutz campuses. She worked to reformulate the office from the ground up by developing new policies and procedures.
Viveiros is actively publishing in the areas of equity and conflict in higher education and has a forthcoming book to be published by Cognella Press. She is an active member of the Latin American Educational Foundation and mentors several minoritized individuals in the community; she also belongs to the University Club of Denver Women of the Vine and the Denver Women's Chamber of Commerce, where she is a volunteer adviser.
Jake Reagan graduated summa cum laude this spring from CU Boulder with a bachelor's degree in Spanish and Political Science. He is a true scholar across a wide range of subjects and methods.
Reagan served as Student Body President from 2018 to 2019. As Sandy Jones, former dean of students, characterized the job, "It requires a considerable amount of high-level management work, including recruiting, training, motivating and inspiring a team of over 20 legislative council members, dozens of paid commissioners and hundreds of committee members."
One of Reagan's primary focuses as Student Body President was gun violence. Jones wrote, "As a direct result of Jake's initiative in bringing campus stakeholders together, the CU Boulder campus instituted an enhanced educational strategy for active-shooter response that educates students, staff and faculty on how to be effective bystanders in times of crisis." During this project, Reagan orchestrated an effort by CU Student Government to work with Colorado's Democratic and Republican lawmakers to craft state-level, gun-safety legislation for universities across Colorado.
In his capacity as Student Body President, Reagan also worked alongside fellow tri-executives, other student leaders and university administrators to preserve student control of CU Student Government's budget and operations. Facing a budget reduction of over 90%, not only did he work with CU administration to avoid these cuts, he also sought to mend the relationship between CU Student Government and the CU administration by building cooperative ties and improving trust between the two constituencies.
Apart from his work at CU, Reagan has interned with the U.S. Senate and the World Bank, has been mentored by Nobel Peace Laureates through the PeaceJam Foundation, and served as a Spanish language interpreter for the Emergency Family Assistance Association. He also worked last summer as a Teach for America Accelerate Fellow, living and working in rural and urban areas in the United States to understand the complex array of issues facing the education system.
In recognition of his commitment to leadership and public service, Reagan was awarded a prestigious Truman Scholarship. Last November, he was selected as a Rhodes Scholar, the second CU Boulder student to win the award in over 25 years. He will continue his studies this fall at Oxford University.
Winners of CU's Thomas Jefferson Awards are selected by a committee of CU faculty, staff and students. Recipients receive an engraved plaque and a $2,000 honorarium.
The Thomas Jefferson Award was established at the University of Virginia in 1951 by the Robert Earll McConnell Foundation to honor teaching faculty who exemplified the humanistic ideals associated with Jefferson. By 1962, six other institutions – including CU – had established a Jefferson Award. In 1980, the university added a student category; in 1988, the staff category was approved. Funding for the awards is derived from earnings on an endowment provided by the McConnell Foundation and from a bequest by Harrison Blair, a CU alumnus.