SPOTLIGHT
At CU Boulder's newest college, 'building the plane as we're flying'
CMCI educators talk journalism evolution at CU Advocates event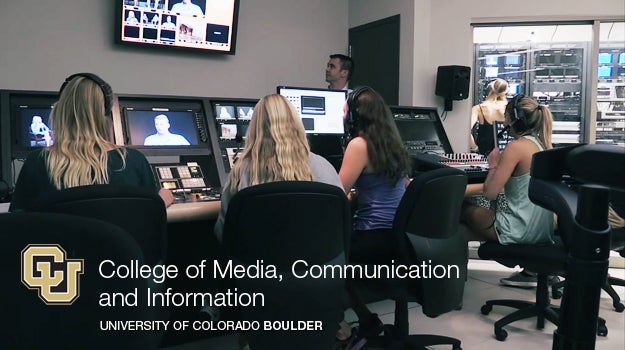 Leadership and faculty from CU Boulder's first new college in over a half-century introduced themselves to members of the CU Advocates program last week, taking part in an event that connected the past, present and future of news media.
The lunch program drew about 90 Advocates members to Denver's 9News, where staff members spoke of how their careers took root on the CU Boulder campus while studying at the School of Journalism and Mass Communication, which was discontinued in 2011. The presentation also provided insight into the establishment and development of the College of Media, Communication and Information (CMCI), which opened in the fall of 2015.
"Everything we're doing is in the start-up mode," said Lori Bergen, founding dean of the college. "We've been working collaboratively to build seven departments. The metaphor we use is that we're building the plane as we're flying it. It's been a great experience this first year."
Bergen led a talk-show style conversation with six other educators from the school, including former Denver Post Editor-in-Chief Greg Moore, who is teaching a seminar this fall as Hearst Visiting Professor of Professional Practice.
"I think (what makes CMCI unique) is the collaboration – the interdisciplinary nature of it," Moore said. "It represents the frontier of the new digital age, where you really need to be fluent in all forms of communication. That really attracted me. It's pushing boundaries in ways I hadn't seen before."
Nabil Echchaibi, associate professor and founding chair of the Department of Media Studies, served on the faculty of the former journalism school, and recalled being "very nervous" during and after the discontinuance process.
"Looking retrospectively, I think it's the best thing that ever happened to that particular school," he said. "(Now) I can be in a constellation of excellent departments. That can feed the curriculum."
Bergen said the college will have added 45 new faculty by the end of next year, and called the growth "unprecedented."
"People are looking at what we're doing and saying there is a new standard being set," Bergen said. "We have the right vision and culture to really do this better than anyone."
Earlier in the event, 9News anchor Kim Christiansen joined producers Kelly Jensen and Ariel Mata – all CU Boulder graduates – to discuss their work in an industry greatly affected by disruptive technology. Those changes obviously informed the creation of the CMCI.
"The business has changed dramatically," Christiansen said. "What hasn't changed is that you have a passion and you still care."
Moore also addressed what remains constant in a fast-changing media landscape.
"One of the things I try to emphasize is the separation between form and substance," Moore said. "There will always be a need for knowledge and journalism, a need to get at the truth of why something happened and what it means. We need to help students understand that we have to focus on what's important."
Also appearing on the panel were Harsha Gangadharbatla, associate professor and founding chair of Advertising, Public Relations and Media Design; Tara Knight, associate professor of Critical Media Practices; Leysia Palen, founding chair of Information Science; and Associate Dean Cindy White.
Click here to watch the CMCI video shared with CU Advocates at the Sept. 20 event.