SPOTLIGHT
Award-winning mentor program boosts careers, breaks down silos
CU Boulder facilities employees lean on colleagues for professional development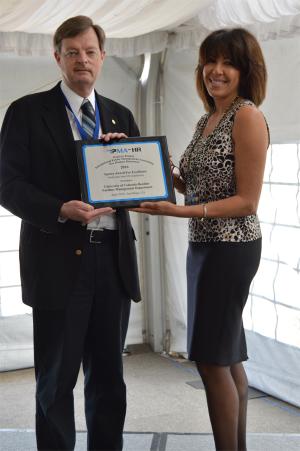 Getting by with a little help from friends undoubtedly will improve someone's personal life, but leaning on colleagues through the Facilities Management Mentor Program (FMMP) at the University of Colorado Boulder can give employees a career boost, too.
The program runs from September through May and offers employees an opportunity on campus to gain institutional knowledge, network, practice team-building skills, augment succession planning and grow professionally in individualized ways.
Lauren Staley-Kurzawa – an employee in the operations division who helps keep the campus lawns green, flowers blooming and sidewalks clear of snow – wanted to practice her public speaking skills. The program helped find an appropriate mentor for her and the pair met a few hours each month to work together.
"I definitely achieved my goals and got quite a bit more than I thought out of participating," she said. "I gave a few presentations to other departments and said a few words at the mentor program luncheon. I feel like I got a lot of support for my goals and was definitely able to gain some self-confidence."
Staley-Kurzawa and her mentor were one of 21 teams that joined the program last year, said Andrew Mead, who has managed FMMP since it was first implemented in the fall of 2012. A group of employees from Facilities Management planned and developed the program after participating in a similar one the campus had sponsored.
Because FMMP is relatively young, it has room for evolution. Mead encourages honest feedback from participants about what they want from the program. He also developed a SharePoint page to enhance communication and training. The page contains information about the program, forms, pertinent articles, a "quasi-blog," and communications from mentors and mentees.
Surveyed participants have said they joined the program to "better appreciate different perspectives within the organization," "bring departments closer," "provide a safe environment to learn and share," "enjoy each other's company while creating a professional relationship," be "more efficient in work activities," and understand "different perspectives."
Participants can designate a person they would like to work with or can ask the program to find the best mentor for them.
"During the last couple of years, people in our department have worked with people in other campus departments and I want to continue to grow that," Mead said.
The program will expand to other departments under the vice chancellor for Infrastructure and Safety beginning this September.
"One of the biggest things I hear from participants is how we are breaking down silos and how much they appreciate being able to work side-by-side with people in other Facilities Management divisions and see what they do and how it matches with their position responsibilities," Mead said.
The program begins with an orientation and an explanation of expectations and the commitment required. It's up to the team to develop an action plan outlining how to accomplish goals. That plan is delivered to Mead, who provides resources needed to aid the team.
The program requires that the pair meet only two hours a month, but most choose to meet more often. In November and March, the mentor-and-mentee team provides an update of their accomplishments to Mead. The program ends in May with a recognition luncheon, which includes department leadership and campus Human Resources staff.
The program was recognized with three awards this year: the Agency Award for Excellence from the International Public Management Association for Human Resources (Western Region), the Effective and Innovative Practices Award from APPA: Leadership in Educational Facilities, and the HR Innovation Award from the College and University Professional Association for Human Resources.
Facilities Management includes more than 500 employees in five divisions: operations, the largest division that includes custodial, trades, recycling and outdoor services; business services, including financial, IT, procurement and a distribution center; planning, design and construction; utility and energy services; and human resources.
Mead said that while mentor programs are available in the academic sector of the university, connecting faculty members with students, the FMMP is the only department on the Boulder campus that offers this type of employee development program.
The entire program and its processes are meant to be a learning experience.
"We had a mentee who was interested in moving into a supervisory position and came to the program to develop those skills. Halfway through the program, the mentee came to me and said, 'I found out I don't want to be a supervisor,' and changed direction," Mead said. "This was a way to allow the mentee to experience and understand about supervision and what it takes to be a leader" without having to spend a lot of time or money toward that effort.
Last year, 34 percent of the participants were program alumni. "Sometimes they return as a mentor; sometimes as a mentee," Mead said.
Staley-Kurzawa said she would join the program again.
"Sometimes all anyone needs is to hear from an outside source that you can attain your goals and there are people willing to help you along," she said. "I could have worked on my goals and aspirations myself and gotten to the same place, but it wouldn't have been as much of an immediate return and I certainly wouldn't have been able to create the large and wonderful network of colleagues that I now have. You get incredible support from these amazing people in the program."