PEOPLE
Pollock steps down as chair of CU Health and Welfare Trust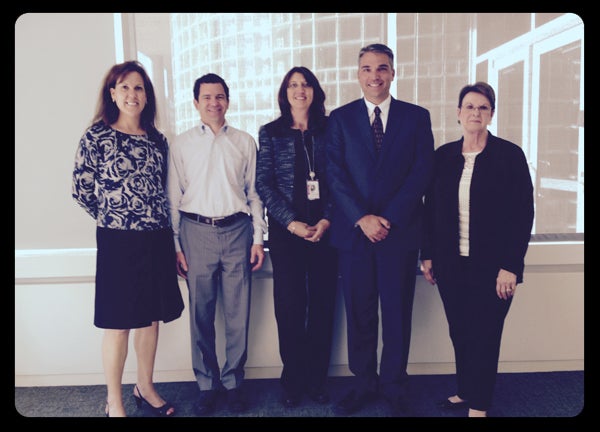 It's official E. Jill Pollock — 2015 Administrator of the Year Award winner, a champion for the advancement of women in the workplace and a driving force behind the University of Colorado Health and Welfare Trust — has stepped down as chair of the Trust Committee.
Pollock was instrumental in implementing CU's Health and Welfare Trust, which went into effect in 2010. The forward-thinking, self-funded Trust administers health plans on behalf of 35,000 employees of CU, the University of Colorado Hospital (UCH) and University of Colorado Hospital Authority and University Physicians Inc. (UPI) and their families, with an emphasis on prevention initiatives.
She presided over her last trustee meeting June 2 at the system offices in Denver. Her tenure officially ends June 30.
"The run has been gratifying and as a committee we have accomplished much," Pollock said at the meeting, also attended by fellow Trustees Todd Saliman, Dallis Howard-Crow, Elizabeth Kissick and Anthony DeFurio, among others.
A reflective Pollock characterized the accomplishments of the Trust as "significant," noting that "external financial audits essentially have been flawless; budget performance has been exemplary. We identified operational risks and mitigated them with improved business processes. Rate increases have been among the lowest of our peers, both locally and nationally."
Pollock cited the launch of new health plans, refining of existing ones, addition of a health savings account and integration of "health and wellness — distinct from sick care — to our lineup of benefits" as important milestones. She also applauded increased employee savings and the creation of Brussels+Muscles as the first such employer-sponsored children's nutrition and physical activity program in the country.
"We saw an opportunity to have the young children of our employees adopt early healthy habits that should mitigate health Trust costs as the kids grow… .," she said. "We have saved participants and employers, projected through the end of (June), more than $42 million by going to a self-funded 501(c)9 VEBA structure."
Pollock said she expects the Trust and its CU Health Plans to grow and change in the future, but she also encouraged the remaining Trustees to "remain faithful to what differentiates this organization from others."
Kathy Nesbitt has replaced Pollock as vice president of Employee and Information Services; she officially takes over as Trust Committee chair July 1. Pollock will remain in an officer role at CU. As executive adviser to the president and chancellors, she is charged with developing and implementing strategic university initiatives for executive succession planning and intercampus services.
The next Trust Committee meeting is scheduled for Sept. 1 at CU system offices.