STORY
Wellness program for kids off to strong start
Brussels + Muscles aims to be healthy influence on influential 5- to 11-year-olds
Participation in Be Colorado's new program for children is exceeding early expectations.
Brussels + Muscles is aimed at making health and wellness fun for kids ages 5 to 11. The idea is that kids who have incentives to eat healthy and exercise will be a positive influence on their parents, making for healthier families and ultimately reducing health costs for them and the university over time.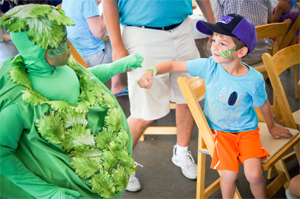 Nearly 1,000 guests attended a kickoff event at the Denver Zoo last weekend; hundreds more are expected at a companion event this coming weekend at the Cheyenne Mountain Zoo in Colorado Springs.
After signups this weekend, Be Colorado is anticipating participation to reach more than halfway to the program's initial goal of 1,000 children.
"The goal of this is to increase education and help kids have fun learning how to be fit," said E. Jill Pollock, vice president, Employee and Information Services. "This is the group that taught us to recycle, to stop smoking inside home, so we think this group is very influential."
Speaking to the Faculty Council at its meeting last week at 1800 Grant St., Pollock said the total potential population of youth in the target age range is 6,000, with an average age just under 8 years old. "So we're going to have kids in this age range for a while."
Pollock said it's not uncommon for health care providers, schools and community groups to promote programs aimed at children, but that it's unprecedented within a large employer. "Altruistically, we want kids to be healthier, but it also costs our plan less. It's better for faculty and staff over time because you'll have healthier kids."
The university will be measuring outcomes over time, Pollock said, with the aim of having data that supports the goals. CU has the potential to market the program beyond the university, she said.