STORY
Visiting Artist Program at CU Boulder welcomes Postcommodity
Oct. 31 lecture part of long-running series engaging students, community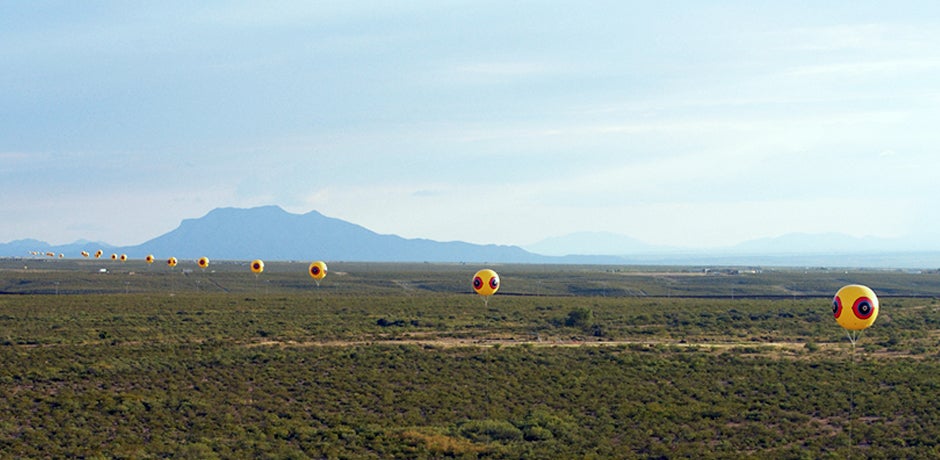 Postcommodity is an interdisciplinary arts team that uses its medium to address the force of the global market. The trio – Raven Chacon, Cristóbal Martínez and Kade L. Twist – create art to bring dialogue to certain issues.
"We're creating an immersive experience for our audience," Martinez said.
The group is featured as part of the Visiting Artist and and Visiting Scholar programs at CU Boulder, and will appear at a lecture at 6:30 p.m., Oct. 31, in the Visual Arts Complex 1B20.
Postcommodity's best-known installation, "Repellent Fence," was inspired by the artists' time spent at the U.S.-Mexico border. In 2015, they debuted the piece, consisting of huge yellow balloons with red, black and blue spots on them, placed at the Mexico-U.S. border.
"We tried to create a work of art that demonstrates the confusion that the border is generating," Martinez said.
At their lecture series, the Postcommodity artists hope to discuss their pieces and the metaphors that their multimedia works of art create.
Since 1972, CU Boulder has hosted a Visiting Artists and Scholar Program, which aims to immerse students into the artist's mind space and create an intimate environment for the artists and students to converse.
"It brings in artists and scholars by complementing what is being taught in the classroom and the pedagogy of the Art and Art History Department," said Kirsten Stoltz, Visiting Artists and Scholar Program coordinator.
Lectures are structured to allow students to get real-time access to practitioners in the field; they also connect students to content that is being taught in the department. About 10 to 15 artists and scholars visit campus each year to engage with the CU community.
Hosting visiting artists and scholars not only provides an educational experience, but is very beneficial for students in the department who are working on art of their own, or studying history.
"Most of the artists and scholars are producing work continually," Stoltz said. "(This is) the window and opportunity to ask them, 'How is this done after school? How can I continue my practice whether as a historian or practitioner?'"
Visiting artists are able to visit students in the studio and critique their art, which can be an added bonus.
"It's very intimate with the visiting artists and scholars who have access to that information," Stoltz said.
As an outreach initiative, the lectures are free and open to the public.
"We have tons of people from the community. It builds this rich dialogue that's really important to the department," Stoltz said.