STORY
Usha Sharma named CU treasurer
CU Denver alumna brings 30 years of private and public sector finance experience
The University of Colorado Board of Regents has named Usha Sharma as CU's next treasurer and chief investment officer.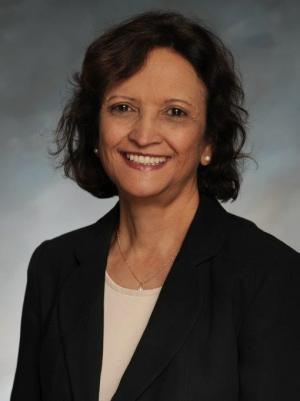 Vice Chair of the Board Ken Montera and Regent Nolbert Chavez co-chaired the search committee for the treasurer position, which reports directly to the Board of Regents. Sharma will officially join CU in late July and work out of the system office.
"This is a critical position for the university system, and Usha's experience in both the private and public sector treasurer roles will continue to keep CU's investments on solid ground," Montera said. "We are thrilled that she has accepted the opportunity to join our CU team."
Sharma brings a deep knowledge of financial markets to the post. Her 30-year financial career includes long-term roles as treasurer at the Denver Board of Water Commissioners (2009-2023) and senior manager in global treasury at Molson Coors Brewing Company (2005-2009). She began her career in various areas of finance at the Coors Brewing Company (1993-2005).
Sharma is an alumna of CU Denver, where she earned two master's degrees in business administration and finance. Sharma received her bachelor's degree in psychology from Tribhuvan University in Kathmandu, Nepal.
"The scope of Usha's history in the financial world, along with her connection to CU as an alum, will allow her to join our team and hit the ground running," Chavez said. "Her current treasurer job has similar duties to the CU position, which will help us strengthen our treasury functions and strategies in a complex and ever-changing financial environment."
Said Sharma, "It is wonderful to return to CU and serve my alma mater knowing how important its financial stability is to the Colorado economy. This is a critical role that helps support all facets of CU's mission, and I am grateful to have an opportunity to give back and serve the university after it has done so much for me."
The treasurer serves as the university's chief investment officer and is responsible for all treasury functions, including investing university funds, cash and investment management, debt management, accounting for those functions and managing banking relationships. The treasurer also is co-fiduciary for CU-managed retirement funds (401a, 403b and SERP). The position is one of only four at CU that reports directly to the Board of Regents, with some reporting responsibilities to the chief financial officer.
"We are excited to have Usha as the incoming CU treasurer," said Chad Marturano, system vice president and chief financial officer. "The selection committee was impressed with Usha's background and strong ties to Colorado, most recently in the public sector at Denver Water, all of which will benefit CU."
Sharma succeeds Dan Wilson, who has served as interim treasurer since December 2022. Wilson retired in 2021 after six years as CU's treasurer.