STORY
Third Annual CU Denver Block Party rocks education corridor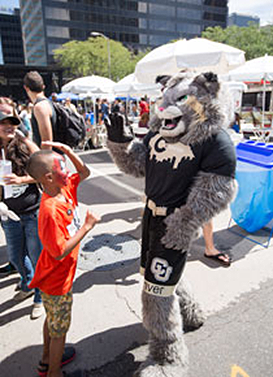 Two new CU Denver faculty members from Fort Collins and Champaign, Ill., respectively, enjoyed slices of New York-style pizza while soaking up the Mile High City sunshine and festive block party vibe.
"Being new faculty, it's nice to come out and see the student spirit here," Caroline Clevenger, Ph.D., said of the CU Denver Block Party, held Aug. 21 on Lawrence Street in front of the Business School. "This also highlights how nice Denver weather is — it's a great event to get people outside and enjoying Denver."
Both Clevenger, an assistant professor who previously taught at Colorado State University, and Moatassem Abdallah, a senior research instructor who arrives from the University of Illinois, joined the Civil Engineering Department in the College of Engineering and Applied Science (CEAS). Abdallah, who lived in Cairo before studying at the University of Illinois, gladly traded the Midwest humidity for Denver's dry air and sunshine. "This is a very nice environment," he said of the Block Party, "and I like the variety of food choices."
More vendors. More games. More students. More fun.
CU Denver's signature community event, in its third year, once again delivered good times, great tunes and tasty eats. The Block Party, brainchild of the Division of Student Affairs, celebrates the start of a new academic year as well as CU Denver's vibrant "education corridor" that stretches into the heart of the city.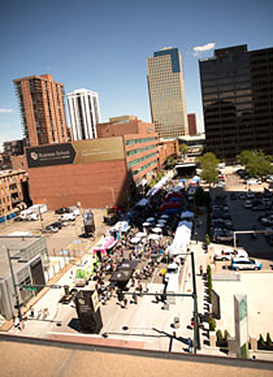 Raul Cardenas, Ph.D., associate vice chancellor for Student Affairs, said the event gets bigger and better with each passing year. "More importantly, we're seeing more students every year," he said.
"It is the true symbol of who we are at CU Denver," Cardenas added. "We're here in our neighborhood of downtown Denver. We're a welcoming campus of students, faculty and staff surrounded by the business community and interesting shops. It's just everybody. It's just awesome."
Alina Li and Xiang Li, freshmen studying finance in the Business School, looked as if they were out for a day at the mall. They carried bags of goodies—students got bags of CU Denver freebies—and bowls of frozen yogurt. "It's amazing," Alina said. "I liked the ball-throwing game," added Xiang.
In addition to games and a Big Baller inflatable obstacle course, the Block Party featured face painting, live music, Milo the Lynx and booths hosted by each of the schools and colleges as well as various departments and centers. After an entertaining set on the main stage by Mix a cappella, of CU Denver's College of Arts & Media (CAM), the CU Denver Cheer and Dance Team performed to AC/DC's "Back in Black" — a nod to the "Back in Black & Gold" theme of this year's Block Party.
Kevin Jacobs, MPA, assistant vice chancellor for Human Resources, and other members of the Human Resources Department enjoyed the annual gathering. "It's really the only event of the year that builds community across every aspect of our campus," Jacobs said of the Block Party. "And it's fun. It's good to have fun in the workplace."
821 by 8-21
By early afternoon on Aug. 21, the "821 by 8-21" effort was nearing its goal of securing 821 scholarship gifts. The several-week push, part of CU Denver's 1000 MORE Scholarship Initiative, culminated with the annual CU Denver Block Party. If the 821 gift-plateau was reached, the Chancellor's Office pledged to give $10,000 to the 1000 MORE campaign.
The university hopes to provide financial support for 1,000 more students every year with private funds raised through the 1000 MORE initiative. The goal is to increase financial support for CU students exponentially. Since the initiative covers an array of scholarships—merit, need-based and international—similar short-span campaigns to raise gifts for the different areas are likely.
During the Block Party, Matt Wasserman, vice chancellor for development at CU Denver, encouraged passers-by to give at the "821 by 8-21" booth. "It's all about getting people to think about giving and giving back," he said.
Other music groups performing included The Epilogues and Chemistry Club, the latter an electro-pop band featuring two current CU Denver students and one alumnus. Lead singer and synthesizer player Jeff Wiencrot graduated over a year ago, having studied audio engineering and electrical engineering.
"It's super-cool to be part of this event. This is our third show connected to CU Denver this year," he said. "The university has been awesome—I loved going there."
Wiencrot said he started in the audio engineering program in CAM and that led him to the electrical engineering program in CEAS. "CU Denver's downtown location is great. I love the urban campus," he said. "I came back to school in my mid-20s. It was nice coming back, and I felt like I fit in here."
Ashley Nolan isn't a CU Denver student, but she was walking through downtown, heard the live music and decided to check out what was going on. Nolan, who is in the Air Force and stationed at Buckley in Aurora, studied the array of buttons that were for the taking on the CU Denver Button Wall.
She said she's thinking about going to college after the Air Force, and CU Denver is now on her radar. "I think it's great," Nolan said of the Block Party. "It's super-informative and the energy seems really great. There's lots of good information here, for sure."