STORY
Tech-minded teams honored with CU Innovation & Efficiency Awards
Prizewinners shared time- and money-saving solutions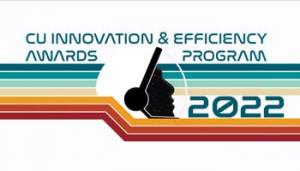 Patches and transcripts and rats – oh, my!
No flying monkeys just yet – however, someone, somewhere at CU is probably working on it!
This year's CU Innovation & Efficiency Awards program on May 11 hosted an impressive group of semifinalists at its Viewing and Voting Event, where the voting panel was treated to videos and Q&A sessions featuring our eight semifinalists.
Once again, the field leaned heavily toward technology, featuring 1) a team from the CU Denver Bursar's Office who identified and implemented a fix to address a recurring problem in processing third-party payments for students, and 2) a team from University Information Services (UIS) who acquired a special server and licensing to provide a cost-effective means for CU employees to create reports using Tableau visualization software. Another team from CU Innovations (Tech Transfer on the CU Anschutz Medical Campus) combined members' expertise to streamline the process by which CU-created innovations are evaluated, patented and marketed.
With competition like this, it was a challenge for the voting panel to select this year's five prizewinners, but the results are in:
A team led by Kelly Fleming from CU System Administration and Christa Bryan-Duffus of the CU Anschutz Medical Campus combined forces to automate the processing of POIs (persons of interest) in HCM, earning a $1,000 prize.
Sage Bonomo and Grant Garceau, employees in the research and grants offices at CU Anschutz, will share a $1,000 prize for implementing a new, improved process for submitting grant applications using existing REDCap software.
In another example of cross-campus collaboration, a team from UIS and CU Boulder created a custom process to consume XML transcripts sent from other institutions for transferring students, transforming what had been a largely manual data-entry task into a faster, more accurate automated process. Kudos and a shared $1,000 prize to Darlene Crow, Siva Jaligama, Joseph Ciecior, Brian Schaeffer and Kimberly Diawara for this extraordinary effort.
The Office of Laboratory Animal Resources (OLAR) at CU Anschutz has been an ongoing force in the CU Innovation & Efficiency program, with employees who are laser-focused on innovation. This year was no exception, and a team from OLAR will share a $1,000 prize for using PCR testing to monitor the presence of infectious diseases in their rodent colonies, rather than relying on sentinel animals (animals who are exposed to soiled bedding from the laboratory colony, tested, then euthanized).
By eliminating the need for these sentinel rodents through the use of PCR testing, OLAR has saved staff time and money (estimated at $41,500 annually), and rescued approximately 2,200 sentinel rodents per year from euthanasia. Congratulations to Lauren Habenicht, Chris Manuel and Gemma Nault for their efforts.
The $1, 500 grand prize for the 2022 CU Innovation & Efficiency Awards program will be shared by a nine-member team, led by Sridevi Bankupalli from UIS. This team was challenged by UIS management to reduce the amount of time required to deploy critical patch updates, which are released by Oracle to protect our PeopleSoft systems from vulnerabilities and cyber threats.
By carefully balancing time and resources, the team was able to get the patch time down from 11-13 days to four-seven days (in production). This time frame bests that of some other major universities by approximately five days. It is an extraordinary accomplishment considering the amount of testing required and because the system must be available to other CU employees during regular work hours. Their dedication to keeping our systems secured is greatly appreciated.
Finally, we thank our voting panel, led by Bob Kuehler, the University Controller, for its time and careful consideration in awarding these prizes.
We represent only a small portion of the innovative work being done at CU, but we're excited to help promote these innovations and share them with the larger community. We thank all of our contributors and we hope you'll share your work with us, too: Read all about us at CU Innovation & Efficiency Awards | University of Colorado.
- Submitted by the Office of University Controller